Syracuse Coach Bernie Fine -- His Wife Knew He Was Abusing Boys!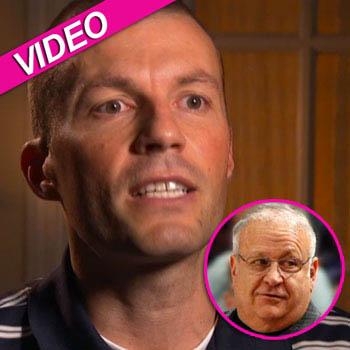 UPDATE: Syracuse University announced Sunday night that it has fired Bernie Fine. A statement from the school said, "At the direction of Chancellor Cantor, Bernie Fine's employment with Syracuse University has been terminated, effective immediately."
Bobby Davis, one of three men who had accused Bernie Fine of sexually abusing them as teenagers, secretly recorded a telephone conversation with the Syracuse University basketball coach's wife where she is heard admitting she knew what was going on!
Article continues below advertisement
The stunning audiotape was made public Sunday by ESPN.
Davis was also interviewed by the ESPN program, Outside the Lines, which explained that Davis recorded the conversation in 2002 after reporting his allegations to the Syracuse police, and getting nowhere.
"I know everything that went on, you know," Laurie Fine said on the call. "I know everything that went on with him ... Bernie has issues, maybe that he's not aware of, but he has issues ... And you trusted somebody you shouldn't have trusted."
The call was legally recorded, ESPN pointed out. Davis was in Utah at the time, Laurie Davis was in New York, and both are one party states -- meaning only one person needs to be aware of the recording.
"You know, he needs ... that male companionship that I can't give him, nor is he interested in me, and vice versa," Laurie Davis went on to say.
As RadarOnline.com previously reported, federal, state and local law enforcement converged on Fine's home outside Syracuse Friday night.
Article continues below advertisement
They removed everything from file cabinets to patio furniture and took hundreds of photographs while serving their search warrant.
Fine has been suspended by the university as the investigations continue.