Exclusive
Judge In Penn State Child Sex Abuse Case Should Have Been Removed Because Of Conflict Of Interest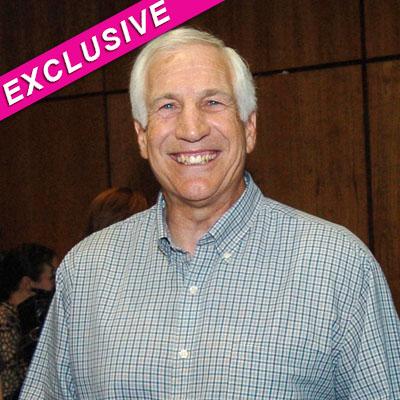 Pennsylvania District Judge Leslie Dutchcot should have removed herself from the Jerry Sandusky child abuse sex abuse case, according to the Pennsylvania Code of Judicial Conduct, RadarOnline.com is exclusively reporting.
As RadarOnline.com previously reported, Sandusky stands accused of molesting eight boys over 15 years, from 1994 to 2009. He was arraigned on 40 criminal counts -- 21 of them felonies -- including multiple counts of involuntary deviate sexual intercourse, corruption of minors, endangering the welfare of a child, indecent assault and unlawful contact with a minor, along with single counts of aggravated indecent assault and attempted indecent assault.
Article continues below advertisement
Judge Dutchcot volunteered at Sandusky's charity, The Second Mile, the organization that the disgraced accused pedophile founded.
The Pennsylvania Attorney General's Office that is prosecuting Sandusky, asked the judge to set bail at $500,000, and that he be required to wear an ankle monitoring device. The judge denied the prosecutor's request, and set bail at an unsecured amount of $100,000. Sandusky would only have to pay the $100,000 for failure to appear at any hearing.
According to the Pennyslvania Code of Judicial Conduct, "Judges should disqualify themselves in a proceeding in which their impartiality might reasonably be questioned."
The judge volunteered for the Two Mile in 2008 and 2009, after the organization had severed ties with Sandusky following revelations that he had been accused of what the former Penn State defensive coordinator called "misconduct involving young boys."
Article continues below advertisement
The law firm of Goodall & Yurchak, where Dutchcot is associated, removed Second Mile from the list of her pro bono activities on her biography on the company website Monday after reports surfaced that the charity was listed on her bio.
Sandusky broke his silence on Monday night, and said in a telephone interview with NBC: "I could say that I have done some of those things. I have horsed around with kids I have showered after workouts. I have hugged them and I have touched their legs without intent of sexual contact. I shouldn't have showered with those kids."