Jerry Sandusky Claims He's Not A Pedophile, 'Just Horsed Around With Kids'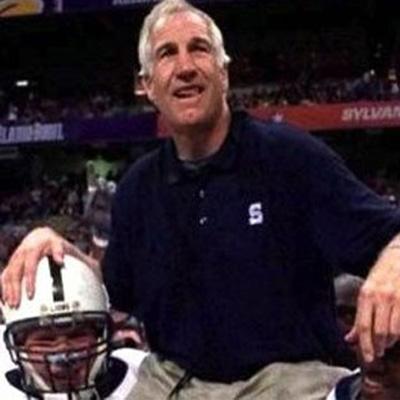 Former Penn State coach and alleged child abuser Jerry Sandusky claims he is not a pedophile and that he just "horsed around with kids," under his care, RadarOnline.com has learned.
"I say that I am innocent of those charges," said Sandusky in a phone interview with Bob Costas for NBC News' Rock Center to air on Monday night.
When asked by the hard-hitting news anchor, "Are you a pedophile?" Sandusky responded "No."
Article continues below advertisement
In the shocking interview the former coach and founder of youth charity The Second Mile said: "I could say that I have done some of those things. I have horsed around with kids I have showered after workouts. I have hugged them and I have touched their legs without intent of sexual contact."
As RadarOnline.com previously reported, Sandusky stands accused of molesting eight boys over 15 years, from 1994 to 2009. He was arraigned on 40 criminal counts -- 21 of them felonies -- including multiple counts of involuntary deviate sexual intercourse, corruption of minors, endangering the welfare of a child, indecent assault and unlawful contact with a minor, along with single counts of aggravated indecent assault and attempted indecent assault.
While he refuses to admit to the grievous crimes, the 67-year-old finally conceded that some of his actions were inappropriate.
"I shouldn't have showered with those kids," he admitted, when pressed by Costas.
As RadarOnline.com previously reported, earlier on Monday, a video interview with Sandusky from 1987 was released in which he revealed he "enjoyed being around children."
"I just have a good time with them," the former Penn State coach said in the interview that aired on NBC.
Article continues below advertisement
"Everybody needs people to care for them," said Sandusky, who worked under Penn State legend Joe Paterno.
"Sometimes they don't want it, sometimes they don't understand what you're trying to do but they want to be disciplined," he said. "Kids are growing up awfully fast today."
Bob Costas' exclusive interview airs on Rock Center Monday night at 10 p.m./9 p.m. CT on NBC.
RELATED STORIES:
Penn State Scandal: Jerry Sandusky's Chilling 1987 Interview, 'I Enjoy Being Around Children'