Penn State Sex Scandal: Jerry Sandusky's Wife - What Did She Know?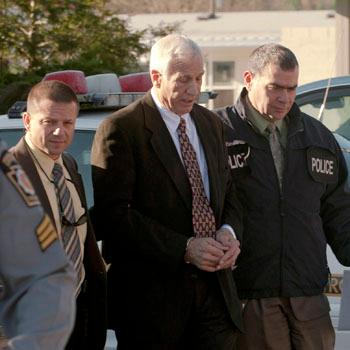 Almost invisible in the Penn State sex abuse scandal is Dorothy Sandusky, the wife of accused child rapist Jerry Sandusky.
Dorothy "Dottie" Sandusky, who Jerry nicknamed "Sarge," was not only his partner in marriage, she also worked with him at his Second Mile charity, which investigators say is where the former Penn State football coach found the young boys he is alleged to have sexually assaulted.
Article continues below advertisement
Those abuses often took place in the Sandusky's State College, PA home, which he shared with Dorothy and their six adopted kids, five of them boys.
Did Dorthy know what was going on? Should she have known? WRCB-TV, the NBC station in Dorothy's hometown of Chattanooga, asked several experts.
"I've seen it both ways," says clinical social worker Farlie Chastain. "In which the family knows and is in denial."
"Because these people are good," Nurse Practitioner Allyson Neal says. "They are what you want them to be at any given moment."
"Very good at hiding it from everyone," Chastain says. "Very good at seducing the child and manipulating the child not to tell."
Neal and Chastain are counsel sexually abused children and teenagers at Parkridge Valley and at Focus Psychiatric Services.
Both say that many victims will blame themselves first; then lash out at their abuser's spouse for not stopping the attacks.
Article continues below advertisement
"There is an ample amount of blame and guilt to go around," Chastain offered.
Dorothy Sandusky does make one almost mysterious appearance in the State of Pennsylvania's criminal indictment against her husband.
Two weeks before he was scheduled to appear before the Grand Jury to give evidence in the case, one of the alleged victims received a phone call from Dorothy. She left a message asking that he call her on a "very important" matter.
The man she called had cut off all contact with Jerry Sandusky years earlier, and testified that, as a 10-year-old in 1994, he was touched and hugged in an "inappropriate" manner by the accused.
The indictment also details the abuse against Victim #1, who testified that as a child he spent numerous nights in a basement bedroom at the Sandusky home, and that is where Jerry sexually assaulted him.
Sandusky has been charged with 40 felony counts of sexual abusing children. He has denied it all, and is out on bail pending his first court appearance.