Joe Paterno Fired From Penn State; Students Riot & Flip Over TV News Van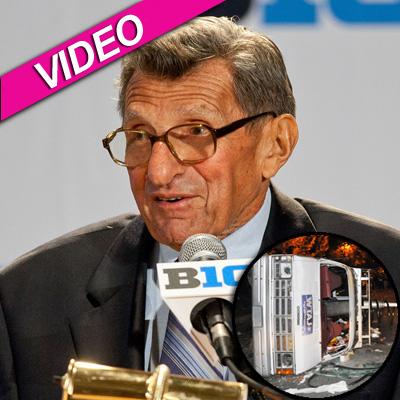 Legendary football coach Joe Paterno was fired by Penn State Wednesday night after the university's board of trustees unanimously voted to let the 84-year-old face of the institution go for a perceived lack of action in the molestation scandal involving his longtime underling, Jerry Sandusky.
"Right now, I'm not the football coach -- and I've got to get used to that," Paterno -- who was in his 46th season with the Nittany Lions -- told reporters outside his home. "I've got to get used to it. Let me think it through."
Article continues below advertisement
Penn State president Graham Spanier was also fired as result of the scandal; the decisions come just days after Sandusky, the school's former defensive coordinator, was charged with molesting eight boys over 15 years, from 1994 to 2009.
Earlier Wednesday, Paterno said he'd retire at the end of this season. Board vice chair John Surma said he couldn't get into detail "specifically" as to why the coach was fired so abruptly, via a phone call.
"In our view, we thought change now was necessary," Surma said. "The Penn State board of trustees tonight decided it is in the best interest of the university to have a change in leadership to deal with the difficult issues that we are facing. The past several days have been absolutely terrible for the entire Penn State community -- but the outrage that we feel is nothing compared to the physical and psychological suffering that allegedly took place."
Article continues below advertisement
Surma said Paterno was fired over the phone because officials "were unable to find a way to do that in person without causing further distraction."
Following the announcement, about 2,000 students angry with the coach's ouster took to the streets of the campus town to protest, chanting "We want Joe! We want Joe!"
Students tipped over a news van on the scene and kicked in its' windows; an estimated 100 officers used pepper spray to subdue the mob.
Sandusky was arraigned on 40 criminal counts in connection with the accusations, including multiple counts of involuntary deviate sexual intercourse, corruption of minors, endangering the welfare of a child, indecent assault and unlawful contact with a minor, along with single counts of aggravated indecent assault and attempted indecent assault.
He was "a sexual predator who used his position within the university and community to repeatedly prey on young boys," Attorney General Linda Kelly said on Saturday when the 67-year-old -- at one time, considered Paterno's heir apparent -- was taken into custody and released on $100,000 bail.
Article continues below advertisement
A pair of high-ranking Penn State officials -- Penn State Athletic Director Tim Curley and vice president for finance and business Gary Schultz — who were both charged with perjury in the incident resigned from their posts Sunday. They're accused of failing to report a 2002 assault in which Sandusky purportedly raped a 10-year-old boy in the showers of the team's football compound.
Paterno finishes a storied history at the school with a record-409 victories, two national titles and five undefeated seasons. Defensive coordinator Tom Bradley will take over as interim coach when the 8-1 squad plays Nebraska Saturday, in their final home game of the year.