Penn State Sex Scandal: 2 Officials Step Down, Expected To Turn Themselves In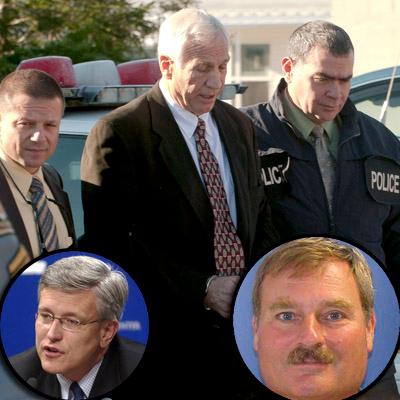 A pair of high-ranking Penn State officials accused of lying to a grand jury to cover up a molestation scandal at the university resigned from their posts Sunday, and are expected to turn themselves in to authorities on Monday.
The moves come in the wake of the child sex scandal linked to Jerry Sandusky, the former defensive coordinator for the school's revered football team.
Following a two-hour emergency meeting with the university's Board of Trustees Sunday, Penn State Athletic Director Tim Curley took administrative leave, while vice president for finance and business Gary Schultz retired, both distancing themselves from the institution.
Article continues below advertisement
Both school officials were charged with perjury after a grand jury investigation of Sandusky, who's accused of sexually abusing eight boys over 15 years from 1994 to 2009.
Attorney General Linda Kelly Saturday called Sandusky "a sexual predator who used his position within the university and community to repeatedly prey on young boys."
The 67-year-old was taken into custody Saturday and released on $100,000 bail. He was arraigned on 40 criminal counts in connection with the accusations, including from multiple counts of involuntary deviate sexual intercourse, corruption of minors, endangering the welfare of a child, indecent assault and unlawful contact with a minor, as well as single counts of aggravated indecent assault and attempted indecent assault.
The school's legendary coach Joe Paterno had not been charged, nor was he implicated of any wrongdoing, in the grand jury investigation.
"If this is true we were all fooled, along with scores of professionals trained in such things, and we grieve for the victims and their families," Paterno said in a statement. "They are in our prayers."
Kelly and state police Commissioner Frank Noonan are slated to address the current state of the case in a news conference Monday at 1:00 pm ET.