Penn State's Joe Paterno To Retire At Season's End Amid Molestation Scandal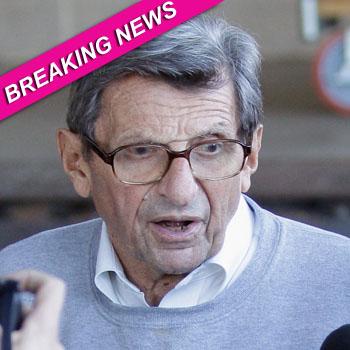 Radar Staff Writer
Penn State football coach Joe Paterno will retire at the end of the season, an insider has told the Associated Press, adding the football lifer will formally announce the decision on Wednesday.
The decision comes just days after his former defensive coordinator Jerry Sandusky was charged with sexually abusing eight boys over 15 years from 1994 to 2009.
The legendary coach, 84, decided to retire in the middle of his 46th season with the Nittany Lions. He won 409 games, a record for major college football. He's taken heavy criticism from the media and authorities for a perceived lack of action in the tragic turn of events.
Article continues below advertisement
Sandusky was "a sexual predator who used his position within the university and community to repeatedly prey on young boys," Attorney General Linda Kelly said on Saturday when the 67-year-old -- at one time considered Paterno's heir apparent -- was taken into custody and released on $100,000 bail.
Sandusky was arraigned on 40 criminal counts in connection with the accusations, including from multiple counts of involuntary deviate sexual intercourse, corruption of minors, endangering the welfare of a child, indecent assault and unlawful contact with a minor, as well as single counts of aggravated indecent assault and attempted indecent assault.
Paterno said in a statement following Sandusky's arrest: "If this is true we were all fooled, along with scores of professionals trained in such things, and we grieve for the victims and their families. They are in our prayers."
A pair of high-ranking Penn State officials -- Penn State Athletic Director Tim Curley and vice president for finance and business Gary Schultz -- both charged with perjury in the incident resigned from their posts Sunday. They're accused of failing to report a 2002 assault in which Sandusky purportedly raped a 10-year-old boy in the showers of the team's football compound.