Ashton Kutcher 'Feels Awful' About Defending Joe Paterno In Tweet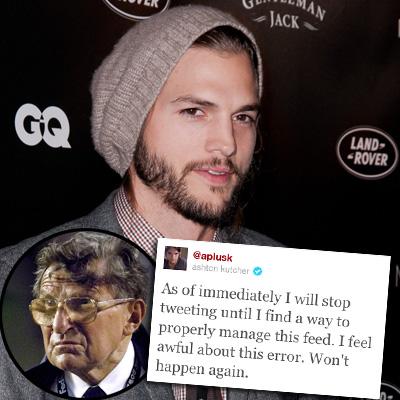 Ashton Kutcher helped make Twitter a global phenomenon, but on Wednesday, he saw its dark side.
The 33-year-old star of Two and a Half Men sent an angry tweet reacting to Wednesday night's news that head coach Joe Paterno had been fired by Penn State, but later admitted he was unaware of the child molestation scandal involving one of Paterno's subordinates that led to the surprise firing.
Article continues below advertisement
"How do you fire Jo Pa? #insult #noclass as a hawkeye fan I find it in poor taste," the Butterfly Effect star tweeted to more than 8 million followers. (He later deleted it.)
Immediately, the hate tweets started flooding in from those upset with his brash opinion, provoking Kutcher to explain he wasn't aware of all the facts in the matter.
"As an advocate in the fight against child sexual exploitation, I could not be more remorseful for all involved in the Penn St. case," wrote Kutcher, who runs The Demi and Ashton Foundation, a nonprofit he set up with wife Demi Moore to help end child sex slavery.