Judge Who Freed Jerry Sandusky On $100K Bail Volunteered For His Charity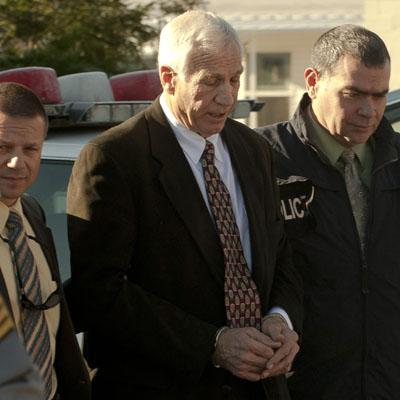 The judge who freed former Penn State coach Jerry Sandusky on $100,000 bail volunteered for his youth charity The Second Mile, RadarOnline.com has learned.
Prosecutors asked District Judge Leslie Dutchcot that the 67-year-old defensive coach be held on $500,000 bail during his November 5 hearing, but she set the amount at a fraction of that number.
Dutchcot, who works as counsel for the law firm counsel to the firm Goodall and Yurchak, notes her participation with Sandusky's charity on her profile on the organization's website, as originally reported by Deadspin.com.
Article continues below advertisement
Sandusky stands accused of molesting eight boys over 15 years, from 1994 to 2009. He was arraigned on 40 criminal counts -- 21 of them felonies -- including multiple counts of involuntary deviate sexual intercourse, corruption of minors, endangering the welfare of a child, indecent assault and unlawful contact with a minor, along with single counts of aggravated indecent assault and attempted indecent assault.
The scandal has shaken Penn State to its very foundation, provoking the ousting of four high-ranking officials for their lack of response to allegations of Sandusky's pedophilic behavior.
Most notably, longtime Head Coach Joe Paterno was canned for his purported lack of action to a 2002 report in which a witness claimed to see Sandusky raping a 10-year-old boy in the showers of the team's football compound.
Article continues below advertisement