Penn State Scandal: Jerry Sandusky's Lawyer Impregnated A Teenager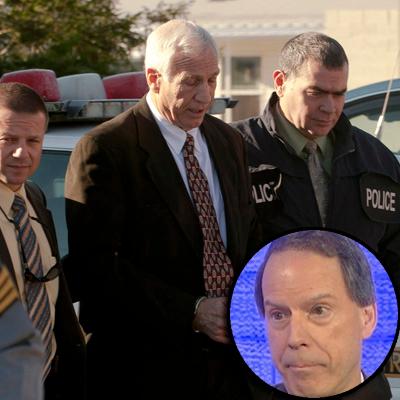 The lawyer representing shamed Penn State coach Jerry Sandusky also has a scandalous past, RadarOnline.com has learned, and he likes his lovers young.
Attorney Joe Amendola impregnated a teenager who he was helping with her legal ambitions, and then married her, The Daily reported.
As RadarOnline.com previously reported, Amendola's high profile client stands accused of molesting eight boys over 15 years, from 1994 to 2009. He was arraigned on 40 criminal counts -- 21 of them felonies -- including multiple counts of involuntary deviate sexual intercourse, corruption of minors, endangering the welfare of a child, indecent assault and unlawful contact with a minor, along with single counts of aggravated indecent assault and attempted indecent assault.
Article continues below advertisement
Not only did Amendola have a relationship with 17-year-old Mary Iavasile when he was 49, but the older man, now 63, also served as the attorney for her emancipation petition on September 3, 1996.
The legal request, which was filed at the Centre County Courthouse in Pennsylvania, made no mention of the affair but the teenager's mother, Janet Iavasile, alleges that her daughter became pregnant by her lawyer around the same time and gave birth before her 18th birthday.
"At the time, I didn't know the extent of the relationship," Janet told the Daily, who thought Amendola was more of a mentor to Mary. "She met him through the school district; she was interested in the law."
The unlikely couple, was married in September 2003, around the same time their second child was born, and have since divorced. Now a 32-year-old mother of two, Mary confirmed that the story is true but did not provide further comment.
Article continues below advertisement
She is clearly following the Penn State sex abuse case closely though as she made a startled response on Facebook (under the name of Mary Christmas), when her ex said he would let his client baby-sit his children.
"OMG did Joe just say that he would allow my kids to be alone with Jerry Sandusky?" Iavasile wrote.
On Monday, Sandusky conducted a controversial interview with NBC's Bob Costas in which he denied being a pedophile, but admitted "I have horsed around with kids I have showered after workouts.