Jerry Sandusky's Attorney: Showering With Boys Not Pedophilia; Witness Could Refute Mike McQueary's Claims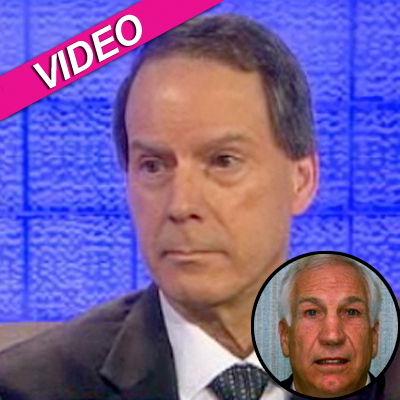 Jerry Sandusky's attorney Joe Amendola told the Today Show on Tuesday morning that his client "showering with kids doesn't make him" a pedophile, and that one of the witnesses to the ex-coach's alleged rapes could be lying.
Amendola said Sandusky "didn't use a whole lot of common sense" when showering with the youths because of past incidents, but that it "doesn't make him guilty" of molestation, in the video obtained by RadarOnline.com.
Article continues below advertisement
In an interview with NBC on Monday, Sandusky admitted he "shouldn't have showered with those kids," but denied he's a pedophile, summing up his interaction with the boys as "horseplay."
As far as Mike McQueary, the assistant coach who claims he saw Sandusky raping a boy in the shower in 2002, Amendola said he believes he's tracked down the child in the incident -- now in his 20s -- who could refute the allegations brought by McQueary.
Amendola told the Today Show, "We believe we found him, and if we have found him, he's telling a very different story than Mike McQueary -- he's saying it never happened.''
"We were showering, and horsing around. And the boy actually turned all the showers on and was actually sliding across the floor. And we were, as I recall, possibly like snapping a towel, horseplay," Sandusky said of the incident in question.
Article continues below advertisement
Sandusky stands accused of molesting eight boys over 15 years, from 1994 to 2009. He was arraigned this month on 40 criminal counts -- 21 of them felonies -- including multiple counts of involuntary deviate sexual intercourse, corruption of minors, endangering the welfare of a child, indecent assault and unlawful contact with a minor, along with single counts of aggravated indecent assault and attempted indecent assault.
The scandal has shaken Penn State to its very foundation, provoking the ouster of four high-ranking officials for their lack of response to allegations of Sandusky's pedophilic behavior.
Watch the video on RadarOnline.com
Most notably, longtime Head Coach Joe Paterno was canned for his purported lack of action to the 2002 report. Penn State president Graham Spanier was also fired in the wake of the scandal.
Article continues below advertisement