J.R. Martinez Before & After Iraq Accident; Jokes He 'Better Be' One Of Sexiest After 33 Surgeries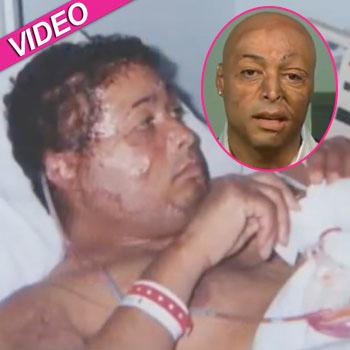 We've got these before and after shots of soldier-turned-soap star J.R. Martinez, who was recently named as one of People magazine's Sexiest Men Alive.
"After 33 surgeries, I better be!" Martinez, still ruggedly handsome in spite of his injuries, joked with Anderson Cooper about the honor, and RadarOnline.com has video of their chat.
Beginning with his role on All My Children, Martinez has become one of the year's big breakouts, largely in part to his championship run on Dancing with the Stars, where the show's 18 million weekly viewers chose him as the 13th season champion.
Article continues below advertisement
Since the star-making turn, the 28-year-old Georgia native's life story has increased in mainstream interest: the then-19-year-old, serving in Iraq, suffered burns to more than 40 percent of his body after driving over a landmine.
He told Cooper he spent the next "two and a half years in and out of the hospital" undergoing the never-ending procedures to restore his person, adding details about the journey of self-discovery he embarked on in his recovery. 
"It was a long road and a tough road at 19 years old, to look at your body and your face, and say, 'What am I going to do about this now? How am I going to move forward?'" he said. "Thinking you're completely alone and no one in the world understands or can relate to you, but luckily, I was able to see a side that I can use my second chance at life as an opportunity to help people with their first chance at life."
Article continues below advertisement
Martinez said he embraces the opportunity presented, with his newfound fame, to be an advocate for veterans.
"You can take away my camouflage uniform, you can take away my M16, which is my weapon, but I look at it now... my new weapons are my words and my new uniform is my scars," he explained. "I'm going to continue to serve in a bigger way than I felt I could do in Iraq, which I feel is going to be more needed now if the talks of pulling are guys out of Iraq and Afghanistan and bringing them home ... it's important for me to be that voice."
Next up for Martinez is a stint as the grand marshal in the 123rd annual Tournament of Roses parade on New Year's Day, as well a book in the works.
Watch the video on RadarOnline.com