J.R. Martinez Moves The Ballroom To Tears On DWTS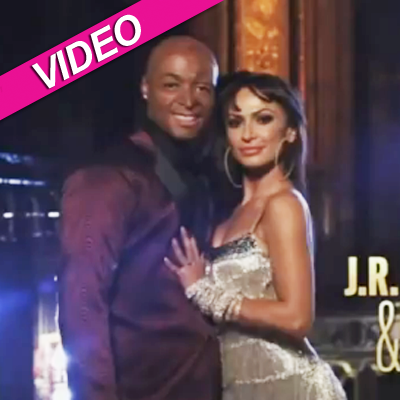 There was hardly a dry eye in the house on Dancing with the Stars Monday night when J.R. Martinez shared his gut wrenching story and then performed an emotional rumba dedicated to U.S. military personnel who didn't make it home.
The 28-year-old Georgia native -- who suffered burns to more than 40 percent of his body after driving over an Iraq landmine when he was 19 -- danced to Tim McGraw's If You're Reading This, a somber song about a letter a serviceman wrote to his family before he died in combat.
Article continues below advertisement
Results From Week Three Of Dancing With The Stars
In a pre-dance vignette, Martinez opened up about his first moments seeing himself after the accident.
"When I picked my head up, I just froze for a couple seconds to look ... to see how bad it was," he said. "I was depressed, I had regret ... I just thought to myself, 'I would have been better off if I didn't survive.'"
Martinez said his mother inspired him to stay positive, reminding him people would be there for him because of who he was, not what he looked like.
The All My Children star, who's underwent 33 surgeries since the accident, dedicated his dance with pro partner Karina Smirnoff to the troops killed in action, fighting for the freedom of Americans.
At the end of the brilliant number, the audience gave the duo (both crying by this point, along with many others in the crowd) a standing ovation.
"Heroes, I believe, are normal people, ordinary people who do extraordinary things -- tonight you did something extraordinary," judge Carrie Ann Inaba -- fighting back tears -- told him. "I thank you, because that was one of the most profound, honest dances I've ever seen on the show."
Article continues below advertisement
"I didn't expect performances like this from you," said Len Goodman. "It was a wonderful performance."
Bruno Tonioli added: "You danced from your heart. I could feel every emotion."
For his efforts, the soldier-turned-soap star was awarded a 26-point score – the second highest of the night.
Coco Wants To Be On Dancing With The Stars!
Among those cheering him on -- a teenager named Jenna Bullen, who was burned over 95 percent of her body in a hot water heater accident when she was just 3 years old.
Dancing With The Stars 13th season returns on ABC Tuesday at 8/7c.