David Arquette: 'I Understand How Chaz Bono Feels'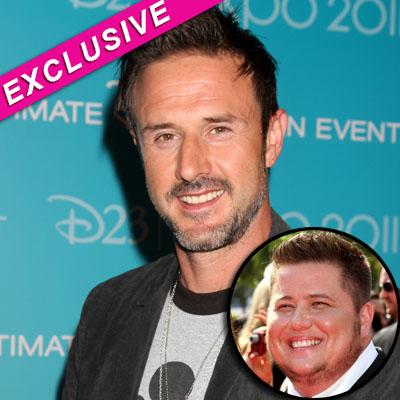 David Arquette has been making some serious new moves on the dance floor while rehearsing for his Dancing with the Stars debut on Monday, and the actor revealed that despite the tough competition, he has the greatest respect for his rival contestants -- especially transgender star Chaz Bono.
"I think Chaz is great, he is an activist and has a lot to say," Arquette told RadarOnline.com in an exclusive interview at the Los Angeles Confidential Pre-Emmy party at the London West Hollywood.
Article continues below advertisement
"It's really admirable of him to step out and put up with the criticism and be himself, and be comfortable with himself. It's just been great," explained Arquette, 40, whose older sibling Alexis Arquette is a transgender actress and musician.
The Scream star went on to voice his dislike about the outcry from conservative groups who have complained about Chaz being on the show.
"I'm not a big fan of anyone who is that negative and cruel," he revealed.
"I didn't know Chaz before but going on there, but with Alexis I saw how vicious people can be, and I saw what a real emotional journey it is for someone who doesn't feel comfortable in the sex that they were given as a child. So I understand how he feels, and I also see how natural it is," explained David, adding that he hopes that Alexis will watch the show, "But she better vote for me!"
If he wasn't a contestant, David said his vote would be going to Iraq war veteran J.R. Martinez.
Article continues below advertisement
"I think J.R. is going be difficult to beat. He's an incredible person. He's going to be amazing," he said, in admiration of the former soldier and All My Children star who was badly burned in combat.
Another hot pick for the sports fan is basketball star Ron Artest, who officially changed his name to Metta World Peace on Friday.
"I'm excited to see what Ron Artest does, he's one of the greatest defensive players in the NBA, and I'm a big Lakers fan," David, a regular sight court-side at the Los Angeles Lakers games, told RadarOnline.com.
"He's got really fast feet, he's a professional athlete.
"(Soccer star) Hope Solo is a professional athlete and is going to be great too. Plus she's really beautiful and statuesque, and she's dancing with Maks and that's going to be hard to beat," said Arquette.
As for his own chances, David, who is partnered with Kym Johnson, said he's having a great time but, "I'm really uncoordinated so it's been a real test of patience for Kym."