Exclusive
Dancing With The Stars' Executive Producer: Skeptics, Critics Should Give Chaz Bono A Chance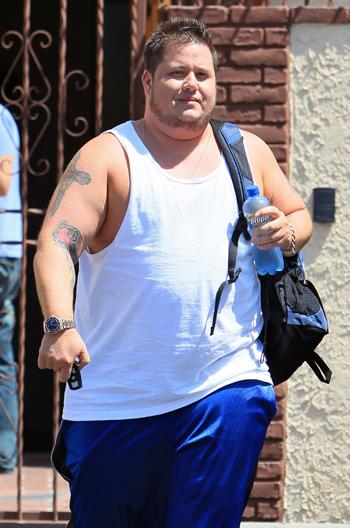 After a firestorm of criticism from special interest groups condemning Dancing With the Stars for including its first transgendered contestant, Chaz Bono, the show's executive producer, Conrad Green, said the pundits should let Bono work his magic on the dance floor before jumping to conclusions.
His comments on Thursday came the same day more groups condemned the show for including Bono, who's paired up with a female dancer Lacey Schwimmer in the competition. Putting Bono on, The Culture and Media Institute's Dan Gainor said, is "a ridiculous, agenda-driven move" and "the latest example of the networks trying to push a sexual agenda on American families."
Article continues below advertisement
Online group OneMillionMoms.com called the inclusion of Bono and openly-gay reality star Carson Kressley "completely unacceptable.
"Christians should not watch the show, no excuses!" the group said.
Green's take?
"I hope that a lot of the people who appear to be upset at the moment will give him a chance and maybe realize it's not quite as bad as they think," he said.
"I think we've had three gay or transgender contestants out of about 120 on the show, so what we're really doing is reflecting some of the makeup of this vast array of people that make up American society.
"We're not going to be dwelling on Chaz's sexuality any more than we dwell on anyone's sexuality on the show," he said, adding the show was "not going to be going into things that are going to make it difficult for you to watch with your children at all."
Green said the 42-year-old daughter-turned-son of Cher and the late Sonny Bono landed a coveted spot on the top-rated ABC show because he's "a great guy and he's got a really interesting story: he comes from Hollywood royalty...and is familiar to loads of our audience throughout his life."
Article continues below advertisement
Green said casting Bono -- born Chastity -- hasn't caused a single sponsor to drop their ads on the show.
Bono said on his Twitter page Thursday that he is "overwhelmed by the outpouring of support I received from everyone."
"I don't listen to the haters," Bono wrote, "but embrace the love."
Other pairings to watch this season are: David Arquette and Kym Johnson; Ron Artest and Peta Murgatroyd; Elisabetta Canalis and Val Chmerkovskiy; Kristin Cavallari and Mark Ballas; Nancy Grace and Tristan McManus; Robert Kardashian and Cheryl Burke; Ricki Lake and Derek Hough; J.R. Martinez and Karina Smirnoff; Chynna Phillips and Tony Dovolani; Hope Solo and Maksim Chmerkovskiy; and Carson Kressley and Anna Trebunskaya.