Exclusive
J.R. Martinez 'Is An Inspiration To All Veterans' Says Soldier Who Served With Him In Iraq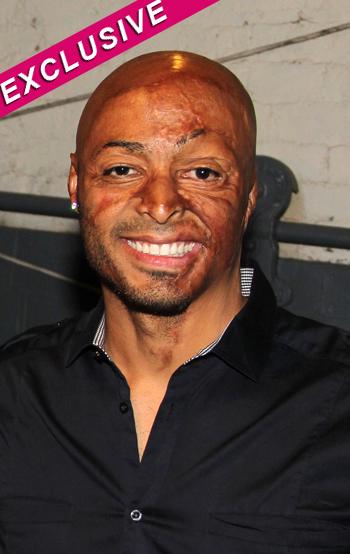 The announcement that scarred Iraq war veteran and All My Children star J.R. Martinez will be competing on season 13 of Dancing With The Stars is being celebrated by his fellow servicemen.
"To see someone who was not an officer and was wounded so badly to make it on to the show is very encouraging for us all to see," fellow Iraq war veteran Josh Aguilar told RadarOnline.com in an exclusive interview. "He has a rock star status!"
Article continues below advertisement
The 28-year-old Iraq war vet, who was badly injured after the Humvee he was driving hit a land mine while deployed with the Army in 2003, will be dancing into the hearts of Americans this season on the ballroom competition show.
Just like Martinez, Aguilar was a soldier in the 101st Airborne Division at Fort Campbell in Kentucky. Although they didn't know each other, both infantry men were deployed to Iraq at the same time in 2003, from the same location.
"Even though we've never met, having someone being from the same division as me do so well makes me proud," said the veteran, who served in the war three times before being deemed medically unfit in 2008 after a back injury.
Although his fellow soldiers were thrown from the vehicle, Martinez was trapped inside, suffering smoke inhalation and severe burns to more than 40 percent of his body, including his face.
Article continues below advertisement
He subsequently spent 34 months recovering and has undergone 33 different cosmetic and skin graft surgeries. Since the accident, Martinez has become a motivational speaker and an actor, most notably landing a role on the ABC daytime drama All My Children in 2008, where he plays combat veteran Brot Monroe.
"J.R. has outward scars, but there are a lot of inner scars that are just as damaging to veterans," explained Aguilar, who suffers from Post Traumatic Stress Disorder caused by his experiences at war.
MORE ON:
Dancing With the Stars
"I just got out of the military in June and I want to get into the entertainment industry," he said, adding. "J.R. is an incredible inspiration. His rank in the military hasn't limited him from being someone to look up to."
Life after the Army is very difficult for many veterans, especially those with families that need to get jobs to support them and can't afford to go to college. "They take entry level jobs that school kids are taking –- they are in their 30s and are competing with 19 and 20-year-olds for work. It's very discouraging."
Article continues below advertisement
But Aguilar believes Martinez is spotlighting the plight of veterans in a positive way: "He shows we're more than just that homeless guy in the street."
Coco Wants To Be On Dancing With The Stars!
As for how the soap star will fare against his celebrity rivals on DWTS, Aguilar thinks Army life will give him a big advantage. "I think he will do really well, it's the soldier mindset – a lot of solders especially those in the infantry have to constantly adapt to new situations," he said.