DWTS Cast Revealed -- Who Is J.R. Martinez?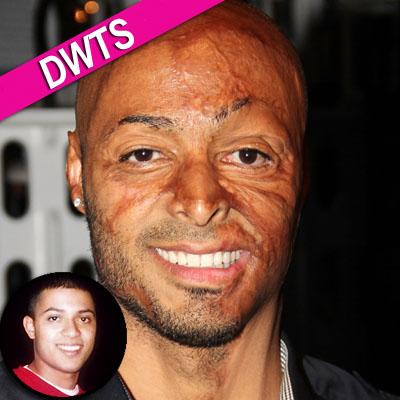 You're probably familiar with most of the celebrities who will be competing on the 13th season of Dancing with the Stars (after all, David Arquette, Ricki Lake, and Nancy Grace are all big names), but there's one person you might not be as familiar with –All My Children actor J.R. Martinez.
So to save you the trouble of googling him (you know you will), here's some background on him.
Martinez, 28, is an Iraq war vet who was badly injured after the Humvee he was driving hit a land mine while deployed with the Army in Iraq in 2003.
Article continues below advertisement
Although his fellow soldiers were thrown from the vehicle, Martinez was trapped inside, suffering smoke inhalation and severe burns to more than 40 percent of his body, including his face.
He subsequently spent 34 months recovering and has undergone 33 different cosmetic and skin graft surgeries.
In 2009, he spoke to CNN about that fateful day that would change his life forever.
"I was trapped inside the vehicle for about 10 minutes, conscious and can literally see my life slipping away from me. You know, my mother is my best friend and I kind of had the visual of my mother, and them handing her a flag and I thought to myself, that's not something I want to put my mother through."
Martinez said he had lots of bad days while recovering, but he kept a positive attitude.
"Another obstacle is where I have to go into the public and show my face and catch those looks of people here in New York," he said. "It's one of those things where you've just got to get through it, and you've got to fight the obstacles and you've got to be strong and you say, 'You know what? I have hope and I believe and I'm never going to quit.'"
Article continues below advertisement
Since the accident, Martinez has become a motivational speaker and an actor, most notably landing a role on the ABC daytime drama All My Children in 2008, where he plays combat veteran Brot Monroe.
Coco Wants To Be On Dancing With The Stars!
Martinez considers the career switch ironic since he would lie in bed in the hospital watching telenovelas -- Spanish soaps -- with his mother every night.
"And there wasn't nothing I could do about it," he said. "So I just sat there. And finally I just got to a point where I'm just going to take it in and watch TV with her. And one day out of a joke I said, 'One day I'm going to be on a soap opera, Mom.'"
Martinez believes the role -- in which he plays an injured Iraq war veteran -- has been therapeutic for him.
Huge Dog Welcomes Home His 'Military Dad' From Deployment
"A lot of us, we go through things in life sometimes and we don't want to sit there and go back to remember it," he said. "But it's good to go back and remember it and it's good to talk about it, whether it's to yourself or a piece of paper or whether it's to an audience or a camera like I am doing right now."
Article continues below advertisement
In addition, Martinez does a great deal of charity work, including for Iraq Star Inc., a national nonprofit foundation that provides reconstructive surgery to Iraq and Afghanistan war veterans.
According to his official website, Martinez enlisted in the Army after he graduated from high school in an effort to give back to the country that had given so much to him and his family.
In September 2002, he "underwent Basic and Advanced Training at Fort Benning, Georgia, where he gained skills as an 11-B Infantryman," the site says. "After reporting to Fort Campbell, Kentucky, in January of 2003, he was assigned to the 2nd Battalion, 502nd Infantry Regiment of the 101st Airborne Division."
On Monday night during ABC's live announcement revealing the celebrities who would complete on DWTS, Martinez was asked about goals for the competition.
"I just want people to take away that no matter through what war or battle that you are fighting, that through positive thinking, through a positive attitude you can overcome," he said. "I think all of us up here are going to prove that to the 40 million people that watch this show that we are going to push ourselves to go beyond what were thought possible."