DWTS' J.R. Martinez On Why He Was 'Kept In This World'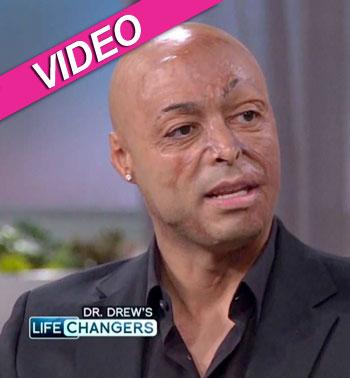 By Amber Goodhand - RadarOnline.com Reporter
Dancing with the Stars contestant J.R. Martinez opens up to Dr. Drew on Tuesday about why he thinks he survived the horrific incident that left him permanently scarred, and RadarOnline.com has a preview of the moving interview.
"I think we all go through something we ask the question why. Why me, why me, why me? And I was going through that question every single day of my recovery for the first five months," J.R. told Dr. Drew during a taping of Dr. Drew's Lifechangers.
Article continues below advertisement
"Finally one day in the midst of my own recovery one of the nurses asked me to visit one of the burn survivors that just arrived at the hospital. He was having a tough time with his recovery and thought maybe I can shed some light on it."
J.R. is an Iraq war veteran who was injured when the Humvee he was driving hit a land mine while he was deployed with the Army in 2003.
"I was really scared and intimidated to go into his room and when I walked into his room it was completely dark and I thought to myself, 'Oh my God, he's in a bad place.' I sat down and talked with him for about 40 minutes and before I walked out of the room I turned to look into the room and the light above his bed was on and he had the curtain that covered the window halfway open so there was a lot of light in the room," J.R. said.
"And that was something so simple that said so much to me and I said to myself, 'You know what, that's the answer to the question why. I was kept in this world to use my experience to help other people with their experiences.'"
While taping Dr. Drew, J.R. surprised fellow burn survivor Jenna, 15 — who burned over 95 percent of her body during an explosion when she was only three years old — by inviting her to a taping of Dancing with the Stars, so you may have seen her in the audience!
Article continues below advertisement
Not only is J.R. a hero to those he has inspired, but he's proven himself on the dance floor by consistently garnering some of the highest scores of the season.
To see J.R.'s full interview, check out Dr. Drew's Lifechangers on Tuesday at 3:00 p.m. on the CW.