Seven Things You Didn't Know About Groundhog Day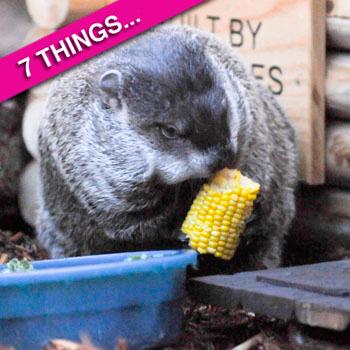 By Debbie Emery - RadarOnline.com Reporter
Despite the unseasonable heat wave warming up cities across the country, the most highly esteemed weather man in America has predicted six more weeks of winter.
After cautiously emerging from his hole on Thursday in front of hundreds of eager eyes and flashing photographers, Punxsutawney Phil, of Pennsylvania, cast a shadow, promising a dramatic reversal in the mild temperatures that have been 20 to 30 degrees higher than normal in many areas.
Article continues below advertisement
Known as Groundhog Day, the marmot has been making weather predictions every February 2 since 1887, but many avid followers don't know the details behind the bizarre tradition beyond what they learned in the Bill Murray comedy classic of the same name, so RadarOnline.com has compiled seven essentials everyone should know about the furry critter's national holiday.
7. According to the folklore, if it is cloudy when the groundhog emerges from his burrow in Gobbler's Knob then spring will come early. If it is sunny and the animal sees his shadow and retreats back into the earth, then winter will continue for another six weeks. A select group known as the 'Inner Circle,' surround the marmot during the ceremony, dressed in their traditional top hats and tuxedos, and Phil speaks his decision to the Club President in 'Groundhogese,' which only the current president can understand.
6. Since his first prediction, Phil, as he's known to his friends, has seen his shadow 99 times and failed to notice it on just 16 occasions. When not working, he lives in the town library with his wife, Phyllis.
5. The first revelry around the chubby rodent began with a Pennsylvania German custom based on European weather lore involving a badger or sacred bear, and the earliest record of the groundhog peeping out of his hole on February 2, also known as Candlemass Day, dates back to 1841.
Article continues below advertisement
4. Although groundhogs only have a lifespan of about 14 years, Punxsutawney Phil's supporters claim there is only one Phil and all others are imposters. According to legend, he has achieved the remarkable feat of predicating the weather for 122 years by being given a sip of the mysterious Groundhog Elixir, which magically lengthens his life for seven years.
3. While Punxsutawney Phil is paws-down the most famous groundhog, he is far from the only weather protagonist in the family. He is joined in his winter-watching duties by Staten Island Chuck, known for biting New York City Mayor Michael Bloomberg; Woodstock Willie in Woodstock, Illinois; Sir Walter Wally in Raleigh, North Carolina; Georgia's General Beauregard Lee; and north of the border, Alberta's Balzac Billy and Ontario's Wiarton Willie give climate predictions to Canadians.
2. One thing Phil has over his competitors is Hollywood fame, as his name went up in lights in the 1993 hit Groundhog Day, starring Bill Murray and Andie MacDowell as TV reporters stuck in the little Pennsylvania town as Murray relives the same day over and over again until he gets it right. Phil can also boast that he was once a guest on the Oprah Winfrey Show, and sat with the talk show queen in 1995.
Article continues below advertisement
Seven Things You Didn't Know About Tim Tebow