Seven Things You Didn't Know About Sofia Vergara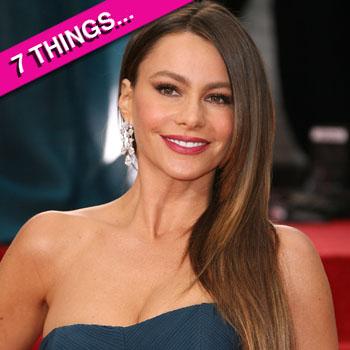 Modern Family beauty Sofia Vergara was voted the most desirable woman in Hollywood on Wednesday by AskMen.com edging out a red carpet's worth of stunners including Jessica Alba, Kristen Stewart, Katy Perry, Adele and Pippa Middleton for the honor.
"I am so honored to be AskMen's most desired woman this year. A big thank you to all the men who desire me," she told the website following her win.
Article continues below advertisement
With that in mind, let's take a closer look at the Colombian stunner in presenting the seven things you didn't know about her.
7. She comes from a not so Modern Family: Her father, Julio Enrique Vergara Robayo, was a cattle rancher and her mother, Vergara Dávila de Vergara, was a home maker. The Latina lovely was nicknamed Toti by her five brothers and sisters and many cousins growing up in her hometown of Barranquilla.
6. She's a blue-light beauty: The fashionable one-time model has put her name on The Sofia Vergara fashion line available at the retail outlet K-Mart. The stunning beauty said she aimed to make her sexy looks affordable with the retail line.
5. Beauty and talent run in the family: Vergara's younger sister Sandra is also an actress, having made her silver screen debut in last year's vampire flick Fright Night. She told CineSnob "It was such a pleasure working with an A-list cast" in the "very well-written, produced, and directed movie. ... It's not like the typical horror movie. It was very artistic for me, from the special effects to the makeup ... they worked with me and gave me fangs and contact lenses. Everything was amazing."
Article continues below advertisement
4. Love and marriage, love and marriage: Vergara said she was a huge fan of her TV hubby Ed O'Neill through his wildly popular Fox sitcom Married ... With Children. "I used to watch the show in Colombia, dubbed in Spanish -- Ed's fantastic!" she told People, crediting the former Al Bundy with his instincts on stage. "Sometimes he knows even more than the director when the scene is perfect. Ed knows a lot about TV. I didn't have much TV acting experience so I'm learning a lot."
3. Say Ahhh: Vergara studied dentistry for three years in her native Colombia, haunting her schooling on the Tao of Teeth when her show biz career began picking up. She says she's still "obsessed" with good dental hygiene, taking her son in for cleanings every three months.
2. She's a survivor: In 2000, Vergara was diagnosed with thyroid cancer at the age of 28. She told Nightline in 2011: "I was very young, and when they tell you that word, it's like, 'What are you talking about? 'You always think, death" ... so it was ... pretty scary. I never felt sick." Vergara -- who says she never felt sick during the ordeal -- fully recovered after undergoing treatment for the life-threatening condition.
Article continues below advertisement