Seven Things You May Not Know About A-Rod's New Flame, Torrie Wilson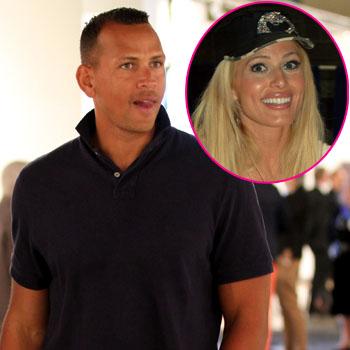 By Adam S. Levy - RadarOnline.com Staff Writer
Blonde -- check! Super-fit -- check! Famous -- check!
Yes, serial-dating slugger Alex Rodriguez is on the prowl again and has taken cue from A-list pal George Clooney in dating a former WWE diva, as the Yankee third baseman's new flame looks to be gorgeous Torrie Wilson.
Since splitting with wife Cynthia in 2008, the man with the $250 million contract has been linked to a number of high-profile hotties, including Kate Hudson, Cameron Diaz and Madonna, and Wilson, 36, looks like she fits the bill as his type.
Article continues below advertisement
With that in mind, RadarOnline.com reveals seven things you may not know about A-Rod's new squared circle siren ...
7. She's no stranger to the gym: Prior to her wrestling career, the hard-bodied beauty won the 1998 Ms. Galaxy Florida. She's also appeared in fitness mags such as Natural Muscle and Ironman Magazine.
6. She's a one-time roommate of Clooney's current gal pal (and possible matchmaker?) Stacy Keibler: "She's a really good friend of mine," Torrie said of Keibler in 2004 interview with filmmonthly.com. "You know I get along with all the other girls, but Stacy is probably the girl I get along with the best."
5. She's got something in common with the Kardashians: Like Kim and the gang, Torrie's been in the clothing business, operating her own boutique called "Jaded" in the Houston, Texas area from 2008 until 2010.
4. Her wrestling career was jumpstarted by Diesel: The Boise, Idaho native broke into the wrestling business with the help of Kevin "Diesel" Nash, the towering wrestler/part-time actor who's been seen in films such as 2005's The Longest Yard and Tom Cruise's upcoming Rock of Ages. Wilson told RF Video in 2008 that Nash followed her fitness career and got her a gig with the now-defunct wrestling promotion WCW in 1999. She said of Nash: "I really have him to thank for getting into this business."
Article continues below advertisement
3. She's been "future endeavored": Slowed down by injuries, Wilson in May 2008 was released from the WWE after an impressive eight-year run. She, like countless others, got the company's trademark website message when they part ways with a performer: "We wish Torrie the best in all her future endeavors."
2. She's kissed more than one household name: On various occasions, Wilson found the script calling for her to kiss her co-stars, including sports entertainment emperor Vince McMahon and its most recognizable face, Hulk Hogan. Wilson said she was grossed out by the smooch with the Hulkster because he was bleeding at the time. "It was really really gross," she said. "Oh my gosh, it was so not sanitary, it was so gross. But you know -- it was Hulk Hogan!"
1. She's a two-time bunny: Wilson's made two appearances in Playboy gracing the iconic magazine's cover in May 2003 (the issue sold more than a million copies); and in a dual appearance with WWE diva Sable (Rena Lesnar) in 2004 she said sparked a real-life drama with the bombshell wife of UFC tough man Brock Lesnar. "We had a huge blowout fight during a show and all the wrestlers were listening. We were in the office with high-ranking WWE officials Jim Ross and Johnny Ace, and she was screaming at me, telling me I was trying to take her spot and reminding me how much better her Playboy sold than mine. ... I was horrified."