Jesus Tells Tim Tebow To 'Turn It Down A Notch' On SNL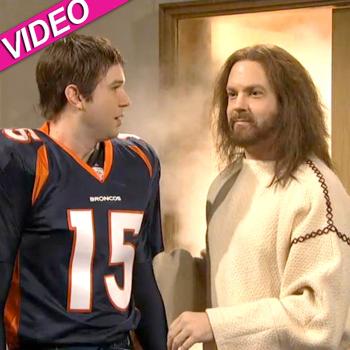 You knew it was coming.....Saturday Night Live took on Tim Tebow and his public displays of religious faith last night, and managed to do it in a way that was funny and smart and without being the least bit offensive to the football phenom or his fans.
Jason Sudeikis took on the role of a hip, wise-cracking Jesus when he surprised Tebow and his Denver Broncos teammates in the locker room.
Article continues below advertisement
Tebowmania has become a national obsession, with the quarterback who gets down on one knee and prays on the sidelines, pulling out six consecutive fourth quarter victories in a row.
VIDEO: Justin Timberlake Makes Hilarious Return to SNL For Season Finale
But in true SNL style, Jesus said he was taking no responsibility for the team's less than stellar play during the first three quarters of those games, and suggested that Tebow spend more time with the playbook and less time with the Bible.
"Take it down a notch," he tells 'Tebow.'
Jesus/Jason also reminded the team they're not the only game in town.  He also has all those country music award shows to worry about!
You can watch the skit here on RadarOnline.com!
RELATED STORIES: