Olympic Gymnast Dominique Moceanu's Abandoned Secret Sister Is Revealed!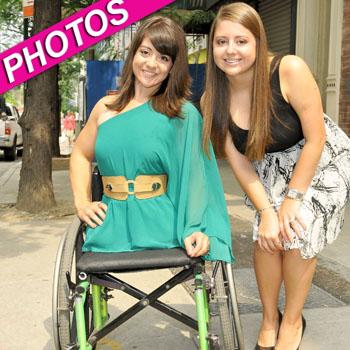 By Debbie Emery - RadarOnline.com Reporter
The world only learned last week that Olympic gymnast Dominique Moceanu had a secret sister that her family abandoned, and now RadarOnline.com has photos of the sibling that show she is the spitting image of the gold medalist.
Born without legs, Jennifer Bricker, 24, has defied the odds and proven that nature is stronger than nurture by carving out a successful career as an aerial gymnast in Studio City, California.
Article continues below advertisement
The pretty brunette was all smiles when she posed outside the Wendy Williams show on Monday after what is sure to be the first of many media appearances.
While growing up in Oblong, Illinois winning state titles and competing in the Junior Olympics, Bricker had no idea that the athlete she idolized most was really her flesh and blood. Her adoptive parents, Sharon and Gerald Bricker finally told her details of her background when she was 16, and it would be another four years before she contacted Dominique directly.
As RadarOnline.com previously reported, Moceanu only discovered that she even had a little sister when Jen wrote to her out of the blue in 2008 to reveal that she thought they were related.
"It was the biggest bombshell of my life," Moceanu, 30, told ABC's 20/20. "I had this sister that was born who was given up for adoption, and I never knew it."
When she confronted her family, the Romanian-American star of the Atlanta games was told her baby sister had been born the day after her sixth birthday but was put up for adoption because she would require expensive medical care.