Exclusive
Gene Simmons Going To Be A Dad Again? Shannon Tweed Pushing To Adopt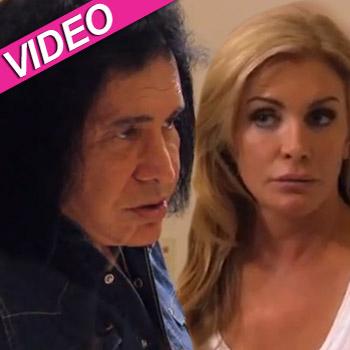 Gene Simmons finally married Shannon Tweed last year after 28 years together and now it seems it may be time for the baby carriage again.
The KISS rocker and his patient bride already have two children together; Nick, 23, and Sophie, 19, but Shannon wants to add to their family through adoption.
In the seventh season of their reality show Family Jewels, Shannon approaches Gene about the idea, but he is not very enthusiastic and neither are their existing kids.
Article continues below advertisement
She even resorts to taking him to meet happy families who have adopted in a bid to change his mind.
"Shannon has been tweeting about adopting a ton and she is still considering it. They just traveled to Africa for their honeymoon too," a source told RadarOnline.com about their possible location to get a child.
"Shannon adopted another dog! That is five in their home now. She has so much love she says that she has enough to give to another child and raise another. But she has said that she isn't just considering a baby, but a child of any age to adopt."
The former Playboy model told her fans that she's not necessarily looking for a baby.
"Everyone assumes adoption means an infant," she wrote on Twitter. "I would help a child of any age. I have no preference."
Meanwhile, as they look to add to their brood, Gene and Shannon are eager for their oldest to "fly the coop."
In the clip, Shannon and Gene discuss their son Nick and his current lack of ambition.
Article continues below advertisement
"Nick has graduated now six months ago. He's a grown man," Shannon mused. "We can't really say, 'Do your homework.' What's your plan?
"Sooner or later he has got to find his own path, and live his own life, and be his own man."
Gene added that if he's going to "do the rock thing seriously then he needs to do it seriously."
"When I was his age I was doing the same thing. On the other hand I was working during the day and then staying up at night," Gene recalled.
Katherine Heigl Debuts New Baby Daughter Adalaide
Jillian Michaels Says The Need To Adopt 'Couldn't Be Denied'
Double The Baby Joy: Jillian Michaels Is A Mom Twice Over!