Beauty & The Beach! Jillian Michaels Takes Adopted Daughter For A Dip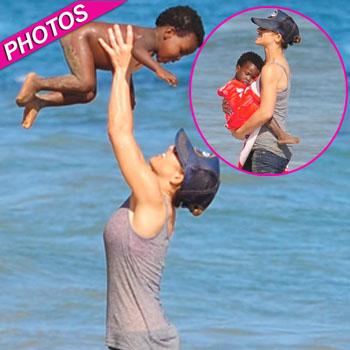 Jillian Michaels and partner Heidi Rhoades took their newly adopted daughter to the beach over the weekend and RadarOnline.com has the cute photos!
The 38-year-old fitness trainer brought Lukensia back from Haiti two weeks ago while Heidi gave birth to a healthy baby boy — giving the couple two children just days apart.
The happy couple opted out of a bathing suit for their two-year-old, who happily played on the beach with her moms bare bottomed.
Article continues below advertisement
Jillian — who has talked about being bisexual in the past — officially came out with her partner Heidi when the two were photographed earlier this month with Lukensia and newborn son Phoenix.
"Adoption is a calling. There is something in you that can't be denied," Jillian said.
"You just know in the deepest part of your being that you are meant to find this little soul and guide them through life."
RELATED STORIES: