Olympic Gymnast Discovers Secret Sister Who Was Abandoned Because She Had No Legs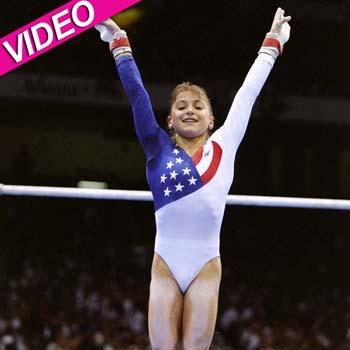 By Debbie Emery - RadarOnline.com Reporter
As part of the U.S. Olympic team's "Magnificent Seven," gymnast Dominique Moceanu had no knowledge that she had a little sister when she flipped her way to win a gold medal at the 1996 Atlanta games, and was already retired and pregnant with her first child when she received the shocking news.
"It was the biggest bombshell of my life," Moceanu, 30, who now lives in Cleveland, Ohio, told ABC's 20/20. "I had this sister that was born who was given up for adoption, and I never knew it."
Article continues below advertisement
Her parents, Dimitry and Camelia Moceanu, came to the United States from Romania in the early 1980s to escape the brutal regime of Nicolae Ceausescu. Both had been athletes and were fiercely ambitious for their oldest child, to the point that they would sacrifice their youngest born.
Moceanu was kept in the dark about her sibling until a 20-year-old named Jennifer Bricker wrote to her saying she had been adopted and had discovered that they shared the same name. When she confronted her family, Dominique was told her baby sister had been born the day after her sixth birthday but was put up for adoption because she would require expensive medical care.
When she reached out to her sister, Dominique found out why she had been abandoned. "Oh by the way. I have no legs," Jennifer told a stunned Moceanu. "But people forget that within minutes of meeting me."
Moceanu had filed for emancipation from her controlling and manipulative parents when she was 17 (her father has since died from cancer) and is now close to the sister who was snatched from her childhood, and the athletic pair has realized how much they have in common.
"The tones in our voices, our handwriting, the way we laugh and chuckle. It's mind-blowing," Moceanu revealed in her new memoir, Off Balance.
Watch Dominique and her family at play below: