Second Student Dead In Ohio School Shooting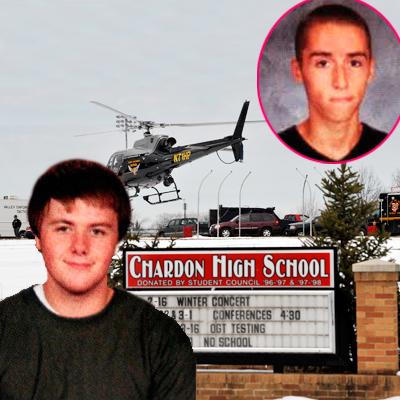 Russell King Jr., a 17-year-old student, was pronounced brain dead early Tuesday, becoming the second casualty in Monday's shooting rampage at Chardon High School in suburban Cleveland, RadarOnline.com has learned.
Student Daniel Parmertor was pronounced dead Monday following the rampage at the 1,100-student school.
Family lawyer Robert Farnacci identified the shooter to the AP as T.J. Lane.
Article continues below advertisement
He said the Lane family is mourning "this terrible loss for their community, and later, in an interview with WKYC-TV, said Lane "pretty much sticks to himself but does have some friends and has never been in trouble over anything that we know about."
As we previously reported, police Monday confirmed five victims in the incident, with the shooter in custody.
Student Nate Mueller told the Cleveland Plain-Dealer he was sitting with a group of friends having breakfast when he claims Lane approached their table and the rampage began. He added that King had recently begun dating Lane's ex-girlfriend. While the group had all been friendly in middle school, Mueller said, they'd gone their separate ways since moving up to high school.
During the shooting, Lane "was silent the whole time," Mueller said. "That's what made it so random."
Mueller escaped from the gunfire by running out of the building and hiding behind a car, where he quickly called 911.
Parmertor, an aspiring computer repairman, was shot while waiting for a bus to take to him to a nearby vocational center. He was airlifted from the scene by helicopters and died at MetroHealth Hospital.
Article continues below advertisement
Parmertor's parents spoke out about the tragedy on Monday in a statement to the press that simply read: "We are shocked by this senseless tragedy. Danny was a bright young boy who had a bright future ahead of him."
Located about 30 miles outside of Cleveland, Chardon has 5,100 residents and is best known for its production in the maple industry, which townspeople celebrate every year with the Geauga County Maple Festival.