Ohio School Shooter Identified As 'A Quiet Kid' Named T.J. Lane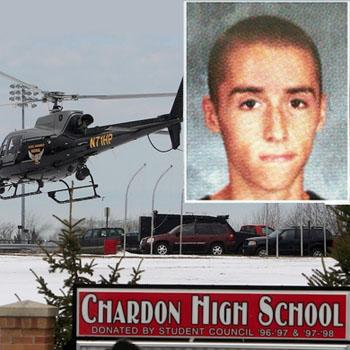 By Debbie Emery - RadarOnline.com Reporter
UPDATE: A second teenager, 17-year-old Russell King, Jr., has now died as a result of that shooting. Details coming.
The student behind an Ohio school shooting that left a fellow student dead and four injured has been identified as T.J. Lane by a potential victim.
The teenage killer was named by Nate Mueller, a junior at Chardon High School, who narrowly escaped death when a bullet grazed his ear during the initial round of fire in the cafeteria at around 7:30 a.m. on Monday morning.
Article continues below advertisement
"My friends were crawling on the floor, and one of my friends was bent over the table, and he was shot," Nate told the Cleveland Plain-Dealer.
"It was almost like a firecracker went off. I turned around and saw (T.J.) standing with a gun and I saw him take a shot."
The authorities have not yet named Lane as the official suspect, but according to AP reports the police and FBI surrounded a house in a rural part of Chardon, which is identified in public records as belonging to Thomas Lane.
However, the police have confirmed that there are five victims and that the shooter is in custody.
Mueller was sitting with a group of friends having breakfast when he claims T.J. approached their table and the rampage began, and he revealed that one of his pals, Russell King, had recently begun dating Lane's ex-girlfriend. The group had all been friendly in middle school but gone separate ways since moving up to high school.
Article continues below advertisement
Nate described Lane as "a quiet kid. Freshman year he got into a 'Goth' phase and didn't talk to that many people anymore. He never egged anybody on. He just went about his business."
During the shooting, Lane allegedly maintained the calm persona that his classmates had come to expect from him.
"He was silent the whole time," said Mueller. "That's what made it so random." Nate escaped from the gunfire by running out of the building and hiding behind a car, where he quickly called 911.
Not so lucky was Daniel Parmertor, an aspiring computer repairman who was fatally shot while waiting for a bus to take to him to a nearby vocational center. He was airlifted from the scene by helicopters and died at MetroHealth Hospital. Two students remain there in a critical condition, the two others are at nearby Hillcrest Hospital.
The boy's parents spoke out about the tragedy on Monday in a statement to the press that simply read: "We are shocked by this senseless tragedy. Danny was a bright young boy who had a bright future ahead of him."
Article continues below advertisement