Dive Death Dismissal: Honeymoon Murder Case Is Thrown Out By Judge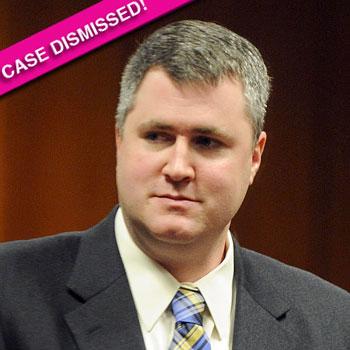 Article continues below advertisement
"The evidence is sorely lacking that it was an intentional act," said Judge Jimmy Nail, reported AL.com, in response to a defense motion for acquittal after the prosecution completed its case. "The only way to convict him of intentional murder is to speculate. Nobody knows exactly what happened in the water. I'm sure we'll never know."
As RadarOnline.com previously reported, Watson was on trial for the capital murder of his wife of 11 days, Tina Thomas Watson, who died on Australia's Great Barrier Reef during a scuba dive, he was accused of turning off her air supply and letting her sink to her death at the bottom of the ocean.
The Alabama judge went on to say that the prosecution's evidence that Watson hoped to benefit financially from an insurance claim of $210,000 by killing his bride was a stretch and he heard no evidence proving a profit motive.
Tuesday had not been a good day in court for prosecutors. Not only did the Alabama attorney general's office lose their bid to call a witness whose testimony would prove that Watson, 34, "had murder on his mind" while flying to Australia with Tina, but they also got scoffed at by Judge Nail over their alleged motive, and one lawyer was told he needed a lesson in the rules of court.
Article continues below advertisement
"You mean to tell me that Gabe Watson bought the engagement ring, married her, he and his family paid for a wedding, he planned and paid for a honeymoon halfway around the world, all so he could kill her to get an engagement ring he bought in the first place?" he asked in an angry outburst that hushed the courtroom.
When the ruling was read, the courtroom erupted into cheers from Watson's supporters, and the free man kept a strong hold on the hand or his second wife, Kim Lewis Watson, who looks eerily similar to deceased Tina.
Defense attorney Brett Bloomston addressed reporters after the surprise decision and said: "It has been a nightmare for Gabe and his family and a nightmare for Tina's family."
While the victim's family left silently without commenting, Gabe's father, David Watson expressed his relief. "I'm just thrilled for Gabe. I think he can finally start the healing process and put his life together. We are so sorry for the Thomases' loss. I'm sure they'll never get over it."
Article continues below advertisement
Earlier on Thursday, Tina's father Tommy Thomas was brought to tears as he told the jury how his son-in-law hadn't even called them to say that Tina had died, and instead they found out over a day later from David Watson.
The former bubble wrap salesman has already served 18 months Down Under after pleading guilty to manslaughter there in 2009.
The surprisingly short sentence he received sparked outrage among Tina's family, who joined forces with prosecutors in the attorney-general's office to obtain a two-count capital murder indictment against Watson in his home state just before he was freed from prison.