Accused Honeymoon Killer 'Hung Out And Asked For Hugs' On Boat While Wife Died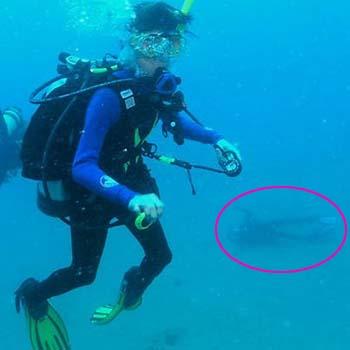 By Debbie Emery - Radar Reporter
After allegedly turning off his wife's air supply during their honeymoon dive trip, Gabe Watson then kicked back and relaxed on the boat while others frantically tried to save her life.
Jurors in the capital murder trial of the Hoover, Alabama man who is accused of killing his wife of 11 days while on a trip to Australia's Great Barrier Reef in October 2003, learned of his callousness from a taped interview with Townsville detective Kevin Gehringer, reported the Courier Mail.
Article continues below advertisement
Watson was heard explaining how he chatted with the crew of the Spoilsport and even asked some of the women onboard for a hug, claiming he thought wife, Tina Thomas Watson, just had a headache.
A chilling photo obtained by RadarOnline.com shows Tina, 26, lying lifeless on the ocean floor, seven minutes into the novice diver's first honeymoon dive with her new husband.
Watson, an experienced diver with rescue certification, said during the interrogation that they were both struggling with the strong current and his 26 year-old bride was sinking, but didn't seem panicked.
"There was never any indication from her that she was needing air," he told the detective. "I didn't know what was going on'" he said. "I thought maybe I'd go get somebody who maybe knows what to do."
While he claimed he swam as fast as he could to get help, prosecutors say he took nearly three minutes to rise from 15 meters, a pedestrian pace.
That is just one of many lies they say he has allegedly been caught in, which include whether there were other divers nearby or not, and stating his safety course taught him "nothing about how to get somebody."
Article continues below advertisement
As RadarOnline.com previously reported, Watson has already served 18 months Down Under after pleading guilty to manslaughter there in 2009. The surprisingly short sentence he received sparked outrage among Tina's family, who joined forces with prosecutors in the attorney-general's office to obtain a two-count capital murder indictment against Watson in his home state just before he was freed from prison.
The state of Alabama is now prosecuting the case on the grounds that Watson, who has since remarried, plotted while in the U.S. to kill Tina in the hope of cashing in on $210,000 in life and travel insurance.
An emergency room doctor who was diving from an adjacent boat reiterated the doubt about Watson's version of events, and told the Birmingham, Alabama court on Thursday that he spotted a lifeless body in the water.
Article continues below advertisement
"Tina caught my eye because she was in distress, lying flat, facing up," Dr. Stanley Stutz testified. "She was just floating. I was shocked. She looked like she was in a lot of trouble."
Stutz explained how he watched as a male diver in a black wetsuit went to the woman in peril and put his arms under her arm pits. "I thought he was trying to save her. Then he let go and she sank," he said
After they pulled her to safety on the boat, Stutz performed CPR on Tina but never got a heartbeat, all the while Watson did not even come to his wife's side.