Lacrosse Murder Victim Had Bleeding In Brain From 'Sheer Force' Of Fatal Attack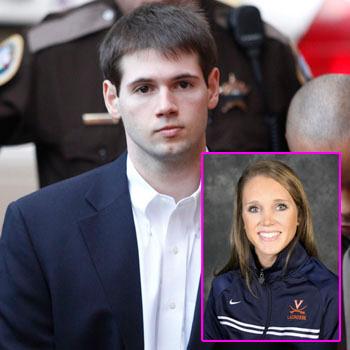 Article continues below advertisement
As RadarOnline.com previously reported, University of Virginia senior Huguely is currently on trial for first degree murder in the May 2010 death of fellow student Love, after he allegedly broke down her bedroom door, beat her and banged her head against a wall upon discovering that she had cheated on him.
During Tuesday's four hours of complicated medical testimony, coroners also presented autopsy photos and medical diagrams, and explained that the hemorrhaging of the brain could not likely have been caused by rescue workers like Huguely's defense attorney had implied.
Huguely, 24, of Chevy Chase, Maryland, has pleaded not guilty to murder and five other charges, and his lawyers are calling Love's death a "tragic accident."
He claims he shook her "a little bit" and "may have grabbed her a little bit around the neck," but did not strangle her or hit her in the face, and didn't think she was badly hurt when he left after the altercation.
However, Love died from blunt force trauma to the head in the hours between him leaving her room and her college roommate coming home to discover her dead body the next morning.
Article continues below advertisement
Christine E. Fuller of Virginia Commonwealth University, who assisted with the state's autopsy at the time, testified that the injuries to Love's brain were consistent with when a person's head is quickly moving and then suddenly stops, and his or her brain continues to shift inside the skull. Bruising is often caused not only by force, she explained, but also rotation.
Tuesday was the fifth day of the trial, which is expected to last two weeks.