Lacrosse Murder Suspect Sobs In Court After Hearing Himself On Tape, 'I Love Her'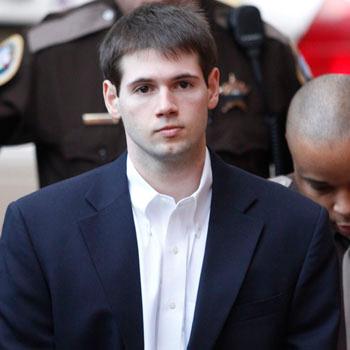 By Debbie Emery - Radar Reporter
Even after allegedly beating his ex-girlfriend to death with his bare hands, the third day of George Huguely V's murder trial became too much for the star lacrosse player and he broke down in tears.
The emotional outburst occurred when a video interview showing 24-year-old Huguely being questioned by police shortly after Yeardley Love's battered body was discovered was played in the Charlottesville Circuit Courthouse.
Article continues below advertisement
As RadarOnline.com previously reported, the University of Virginia athlete is standing trial charged with first degree murder in connection with the May 2010 death of Love, 22.
The dramatic 90-minute presentation that was shown to the jury on Friday showed the 6'2" athlete's shock when he was told that his fellow UVA senior had been killed.
"She's not dead. She's not. She's not. I don't believe you," he told police, his voice sounding distraught, according to the Daily Progress. "I'd never do anything to her. I love her."
Police testified that Love's roommate, who found her body, had informed them that Huguely may have been responsible for her death.
In the disturbing video, the lacrosse player told police that he consumed possibly a dozen alcoholic beverages that day, and that Love's door was locked when he went to see her and so he kicked it open.
"She was like all up in the corner and being defensive," he said on the tape. "And she started getting all aggressive."
Article continues below advertisement
Huguely denied striking Love's head against the wall, but said he wrestled with her on the floor and tried to "restrain her." He also denied strangling her, but said he may have grabbed her neck "during all that commotion," then threw her on the bed and left.
During his opening statements on Wednesday, the defendant's lawyer argued that his client should be considered for a lesser charge because he had not planned or wanted to kill his ex.
"Involuntary manslaughter could and should be the only thought at this time. Please take careful deliberation," Francis McQ. Lawrence said. He repeatedly said that Huguely, 24, had "no intent" to kill Love.
When informed that Love had died of her injuries, there is a 10 second silence on the tape, followed by Huguely's reaction: "She's dead?" he asked, followed by another 10 seconds of silence before he asked again, "She's dead?
Article continues below advertisement
"I never hurt her. I love her. No way. No way. No way. No way," he protested.
After remaining calm so far during his trial, reliving those nightmare moments was too much for the Maryland native and he was visibly shaken, while a number of other people in the courtroom left in tears.
The trial continues and is expected to last another week.
RELATED STORIES:
DUI Millionaire's Children Want Adoption Of His Girlfriend Overturned By Judge