Lacrosse Murder Suspect's Teammates Say He Lied To Them The Night Of The Killing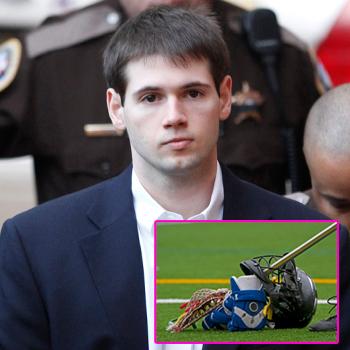 By Debbie Emery - Radar Reporter
Murder suspect George Huguely V lied about visiting friends in the hours before his ex-girlfriend's battered body was found in her college bedroom, a court heard as the prosecution in the first degree murder trial rested on Wednesday.
The University of Virginia lacrosse player's former teammates testified that the day before Yeardley Love, 22, was found dead from blunt force trauma in May 2010, 24-year-old Huguely was sloppy drunk during an end-of-the lacrosse season father-son golf tournament and dinner, reported SportsIllustrated.com.
Article continues below advertisement
Later that night, the college senior and a group of friends went back to his apartment to drink beer and watch TV, but when the others went for a store-run to get more supplies just before midnight, Huguely stayed home alone and was gone by the time they returned 20 minutes later.
He returned shortly afterwards, claiming to have gone to visit teammates in his apartment building, even though none of them lived there.
"We thought that was strange," said fellow lacrosse player Ken Clausen, who went to retrieve the beers with another teammate, Kevin Carroll. "What he said wasn't adding up. There was no reason to lie.
"He had this blank stare on his face," his pal revealed, and while he didn't notice any bruises on his knuckles, "There was no doubt in my mind there was a change in his demeanor."
As RadarOnline.com previously reported, Huguely allegedly broke down his ex's bedroom door, beat her and banged her head against a wall upon discovering that she had cheated on him. Autopsy results showed that Love had severe bleeding in her brain caused by the "sheer force" of the attack.
Article continues below advertisement
"I just thought he was really, really drunk," explained roommate Kevin Carroll, about seeing George when he allegedly returned from visiting Yeardley.
In fact, Huguely's heavy drinking had sparked concern among many of his friends, who had discussed performing an intervention to halt his ever-escalating alcohol consumption.
Carroll, who said he had known Love since grade school, said Huguely and Love argued one week before her death. He said he heard "raised voices" and angry words but did not know the nature of the argument.
As RadarOnline.com previously reported, during his opening statements last week defense attorney Francis McQ. Lawrence asked the jury to consider a lesser charge of involuntary manslaughter, claiming George had "no intent" to kill Love.
Although Huguely was charged with first degree murder, along with five other charges, University of Virginia law professor Anne Coughlin told ABCNews.com that she anticipates the judge will present the jurors with instructions that include a menu of options that include second-degree murder, involuntary manslaughter and voluntary manslaughter.