Accused Honeymoon Killer May Have Been Embroiled In Bizarre Love Triangle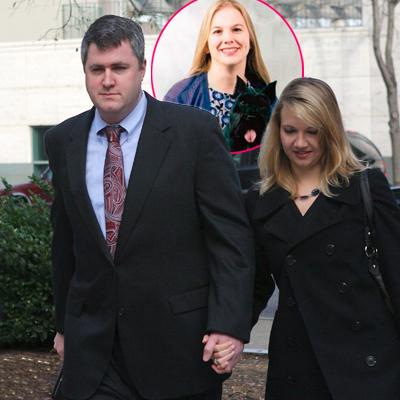 By Debbie Emery - Radar Reporter
For love or money?
Gabe Watson is currently standing before a jury of his peers in the capital murder trial of his wife of 11 days after he allegedly cut off her air supply during a honeymoon dive in 2003 to get a $210,000 insurance claim, but his real motive may have been a bizarre love triangle, RadarOnline.com has learned.
Five years after his short lived marriage to Tina Thomas, 26, ended in her deep sea death on Australia's Great Barrier Reef, 36-year-old Watson, wed his second bride, Kim Diane Lewis, now 32.
Article continues below advertisement
However, this was far from a union born out of a tragedy or a jail cell romance, as Gabe and Kim had known each since going to the same Birmingham, Alabama high school and are thought to have had a teenage attraction that lasted to adulthood.
A former classmate of Kim's told Sydney's Daily Telegraph that Watson showed a keen interest in the high school junior when he was a senior and a star basketball player.
The future lovers were both members of the school group Future Business Leaders of America, and were photographed together in the same 1997 high school yearbook.
The school pal was not aware if Watson dated Kim in high school but revealed that there was a "flirtation" between the two. He was an upperclassman and she was attracted to the mild-mannered basketball player, she said.
As RadarOnline.com previously reported, Gabe left school and went on to meet Tina while they were both college students at the University of Alabama at Birmingham.
Article continues below advertisement
The couple walked down the aisle on October 11, 2003 when they were both 26, and soon embarked on their trip on lifetime to Australia, from which only one of them would return.
Watson has already served 18 months Down Under after pleading guilty to manslaughter there in 2009. The surprisingly short sentence he received sparked outrage among Tina's family, who joined forces with prosecutors in the attorney-general's office to obtain a two-count capital murder indictment against Watson in his home state just before he was freed from prison.
It was while he was awaiting his fate in Australia that Watson and Lewis were wed, in August 2008, two months after he was ordered to face charges in Queensland for Tina's death.
Not only are the deceased and the current Mrs. Watsons, Alabama girls, they also look eerily similar with the same blonde hair, all-American good looks and bright smiles. Their lives remain intrinsically linked as Kim moved into the marital home that ill-fated Tina only spent one night in.
Article continues below advertisement
The science teacher at Homewood Middle School has remained by her husband's side throughout his trial in silent support, but while he was serving time in Queensland she was a lot more vocal about her passionate feelings for him.
In steamy love letters obtained by the Courier-Mail, Kim wrote graphic details about what she wanted to do to him when he got out of prison, including raunchy sexual fantasies and unusual nicknames for parts of the anatomy that are far from the creative writing that you would expect from a middle school teacher.
On Friday, it was another old friend of Watson's who took the stand to testify when his former dive buddy, Michael Moore, told the Birmingham, Alabama courtroom that they did open water dives in Florida and Mexico together, where they made drift dives in brisk current, dove to a depth of 50 meters and struggled with visibility of less than a meter, reported the Courier Mail.
"We had to go and get a diver sitting on the bottom and inflate their BC (buoyancy vest) to get them. Gabe and I did it to each other."
Article continues below advertisement
The testimony casts doubt on Watson's claim that he wasn't trained to save Tina when she began to sink to the bottom of the ocean.
Also during the fifth day of the trial, Florida dentist Dr. Doug Milsap, who was the second person to speak to Watson after he exited the water following Tina's "accident," testified that the defendant gave two versions of events – and neither of them made sense because they relied on him claiming Tina was too heavy to hold, when in fact divers are almost weightless underwater.
"I got angry -- like I feel now -- and said, that's bulls**t," the doctor said. "I tend not to have much tact, I tell it like it is."
When asked how much effort it would have taken Gabe to retrieve his new wife, Milsap replied: "One of two kicks for a strong diver. For a weak diver, two to three," adding that the only divers who sink are, "Dead or unconscious divers."
The trial continues.
RELATED STORIES: