Honeymoon Murder Trial: Critical Ruling Looming As Judge Deliberates Dive Death Reenactment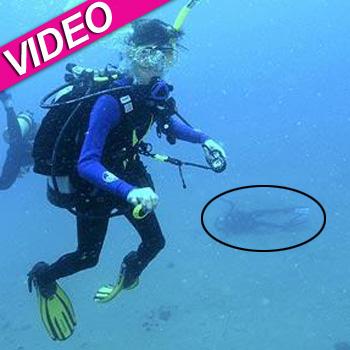 By Debbie Emery - Radar Reporter
The judge in the honeymoon murder trial of Gabe Watson is set to make a critical ruling as to whether jurors will see a dramatic reenactment by Australian police portraying the drowning death of wife, Tina Thomas Watson.
In a special President's Day court session on Monday, Judge Tommy Nail indicated that he would not allow the testimony but agreed to deliberate overnight and make a formal decision on Tuesday after former Queensland Police scuba diver Joshua Kinghorn was flown all the way around the world to Birmingham, Alabama, to describe the death plunge recreation on the wreck of Townsville's SS Yongala, which cost police many thousands of dollars, reported the Courier Mail.
Article continues below advertisement
As RadarOnline.com previously reported, it's taken eight years for Watson to be brought to justice in the U.S. after he allegedly turned off the air supply of his wife of 11 days while the couple were scuba diving on the Great Barrier Reef in October 2003, in the hope of gaining her life insurance policy.
The reenactment in question was conducted in similar conditions to the fatal dive, and intended to test whether Watson was telling the truth about where he was when Tina sank to her death.
Mr. Kinghorn told the judge without jurors present that each time he dropped from where the 34-year-old bubble wrap salesman said he was, he landed on the wreck or just by it. However, Tina's body was found 16 meters away from that spot, which prosecutors want shown as evidence that her husband is lying.
Judge Nail is speculative of the reliability of the reenactment because of the number of variables relating to diving conditions. Police used an underwater photo of a dying Tina on the sea bed and the recollections of Wade Singleton, the man who brought Tina to the surface, as guidance for the recreation, but others gave police statements suggesting she was closer to the wreck, and the exact site was not marked at the time of her death.
Article continues below advertisement
"I remember Gabe saying they turned around and started to swim back. At some stage, Tina either grabbed or knocked his mask or his regulator or something, or Gabe was holding her hand and pulling her back towards the line, and his mask and regulator had gotten dislodged or gotten knocked," Scuba Diving Director Singleton testified, reported Alabama13.com.
"So, he had to let her go to correct his scuba gear, and then at that stage she was sinking. He decided that he would try to go to the surface and raise his arm."
As RadarOnline.com previously reported on Friday, another witness at the scene told the court how Watson gave two versions of events in the moments before Tina died – and neither of them made sense because they relied on him claiming she was too heavy to hold, when in fact divers are almost weightless underwater.
"I got angry -- like I feel now -- and said, that's bulls**t," said Florida dentist Dr. Doug Milsap, who was the second person to speak to Watson after he exited the water following Tina's "accident. "I tend not to have much tact, I tell it like it is."
Article continues below advertisement