Honeymoon Murder Suspect Done Grieving And 'Ready To Move On' Just Two Weeks After Wife's Death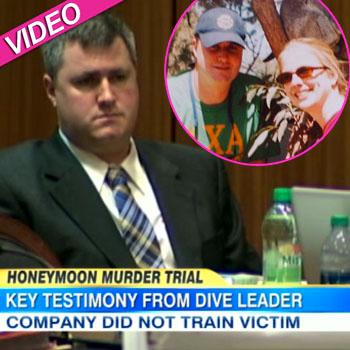 By Debbie Emery - Radar Reporter
The prosecutors in the capital murder trial of Gabe Watson didn't make it into the judge's good books in their latest attempts to prove the Alabama man drowned his wife of 11 days while scuba diving on their honeymoon.
Not only did the Alabama attorney general's office lose their bid to call a witness whose testimony would prove that Watson, 34, "had murder on his mind" while flying to Australia with Tina Thomas Watson, but they also got scoffed at by Judge Jimmy Nail over their alleged motive, and one lawyer was told he needed a lesson in the rules of court.
Article continues below advertisement
As RadarOnline.com previously reported, it's taken eight years for Watson to be brought to justice in the U.S. after he allegedly turned off the air supply of his wife of 11 days while the couple was scuba diving on the Great Barrier Reef in October 2003, in the hope of gaining her life insurance policy.
The blocked testimony was from Alanda Thomas, Tina's sister, regarding a conversation Watson told her that he had with Tina on the flight to Australia during which they discussed her funeral preferences, but the judge deemed it as hearsay.
Thomas did testify on Tuesday that less than two weeks after 26-year-old Tina's death, Gabe told her sister that he wanted to get back the engagement ring he gave her and claim personal belongings before the viewing of her body at a funeral home.
"He told me that I needed to realize that he had his time in Australia to grieve and he was over the grieving process and ready to move on," said Thomas, recalling the last conversation she ever had with him.
Article continues below advertisement
In a heated conversation with prosecutors, Judge Nail said the engagement ring was irrelevant. "You mean to tell me that Gabe Watson bought the engagement ring, married her, he and his family paid for a wedding, he planned and paid for a honeymoon halfway around the world, all so he could kill her to get an engagement ring he bought in the first place?" he asked in an angry outburst that hushed the courtroom.
Prosecutors have been forced to build a circumstantial case for murder because no witnesses saw Gabe take any action to kill her, and the medical examiner who performed the autopsy in Australia couldn't confirm how she died. "I'm not clear why Tina drowned," testified the pathologist, David Williams.
Signs throughout her body of embolism, a sudden blockage of blood vessels from air bubbles, were related to the rescue attempt and did not kill her, Williams testified.
Article continues below advertisement
The $210,000 insurance payout has been considered the number one motive in the alleged murder, but as RadarOnline.com previously reported, a bizarre love triangle may have prompted Gabe to want to get rid of his new spouse.
Five years after his ill-fated first marriage, Gabe wed his second bride, Kim Diane Lewis, now 32, who looks eerily similar to her predecessor and even now lives in her house.
However, this was far from a union born out of a tragedy or a jail cell romance, as Gabe and Kim had known each other since going to the same Birmingham, Alabama high school and are thought to have had a teenage attraction that lasted to adulthood.
The trial will continue on Thursday when the prosecution is expected to rest its case.