Jury Recommends 26 Years For Lacrosse Murderer, Juror Says 'Justice Was Served'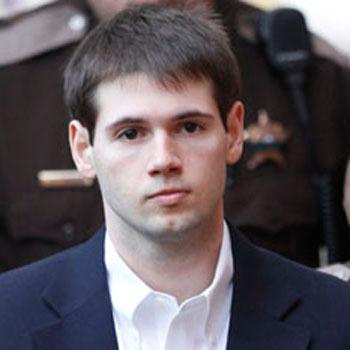 By Debbie Emery - Radar Reporter
After finding him guilty of second degree murder, the jury in the George Huguely V trial recommended to the judge that he be sentenced to 26 years in prison, and now jurors are opening up about their decision.
The 24-year-old University of Virginia lacrosse player was handed down the life-changing sentence on Wednesday for the May 2010 murder of his ex-girlfriend, Yeardley Love, in a drunk rage, during which he beat her and banged her head against a wall after he found out she had slept with another man. Her body was discovered by her college roommate the next morning and the cause of death was ruled as blunt force trauma to the head.
Article continues below advertisement
The jury "really believe justice was served," microbiology professor Ian Glomski told ABCNews.com.
"We worked hard to come to a fair, just verdict," he explained. "We had a good team, educated, well-informed people. We all really believe justice was served. Everyone felt good about our decision."
A higher charge of first degree murder that would have sent George to prison for life was on the table but Glomski explained that they did not believe the crime involved premeditation.
Huguely was also found not guilty of additional charges including robbery, felony murder, breaking and entering with the intent to commit larceny or assault and battery; but guilty of grand larceny for stealing 22-year-old Love's laptop.
Although the jury recommended to Judge Edward Hogshire that Huguely be sentenced to 26 years in prison, he still has the power to reduce that (but not increase it) when the formal sentencing begins on April 26.
Article continues below advertisement
Defense attorney Francis McQ. Lawrence was far from pleased with the severity of the sentence, and said he was: "Disappointed with this verdict but proud to represent George over the years."
The victim's parents, Sharon and Lexie Love, stayed silent in the courtroom and did not speak to the media after the verdict, instead expressing their feelings in a formal statement.
"We dread looking back on the events of May 3, 2010 and pray for the strength to get through each day," they wrote. "Time has not made us miss Yeardley any less, in fact quite the opposite. It is truly devastating to wake up each day and realize that she is no longer here. Yeardley's contagious smile, kind spirit and gentle touch have left this world but we know that heaven has an angel like no other."
The violent murder of one of the University of Virginia's star lacrosse players at the hands of another rocked the school to its core, and President Teresa Sullivan addressed the students and staff in an official statement on the school's website on Thursday.
"Prior to the trial of George Huguely, I said the University would withhold any comments until the trial had concluded. The jury now has rendered its verdict and a young man – a former member of our community – has been found guilty for the death of fellow student Yeardley Love.
Article continues below advertisement
"The conclusion of a trial like this may bring a momentary sense of justice or retribution, but our judicial system can never restore to a family what it has lost. Yeardley's family, teammates, sorority sisters and friends — indeed all of us at the University — continue to feel the loss of this promising young woman.
"Our sympathy and compassion go to the Love family, as well as to the Huguely family, as they face the future and their personal grief," she concluded.