Verdict In: Lacrosse Murder Suspect George Huguely V Found Guilty Of Second Degree Murder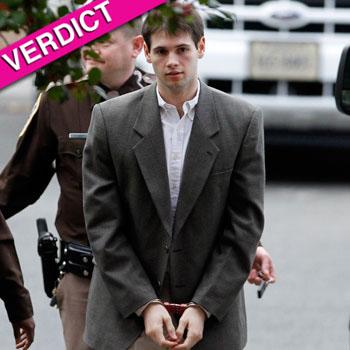 Article continues below advertisement
As RadarOnline.com previously reported, after three weeks of testimony and evidence, both the prosecution and defense made their closing arguments on Saturday and the jury had a three-day break before making their difficult decision.
Huguely was arrested after getting into a violent, drunken fight with the 22-year-old during which he beat her and banged her head against a wall after he found out she had slept with another man. Her body was discovered by her college roommate the next morning and the cause of death was ruled as blunt force trauma to the head.
The second degree murder charge means that the jury believed the crime was not premeditated, which the defense had argued, claiming their client was heavily drunk at the time.
The verdict means he killed Love and did so with malice but that it was not premeditated or with deliberation. He was also found not guilty of additional charges including robbery, felony murder, breaking and entering with the intent to commit larceny or assault and battery; but guilty of grand larceny.
Article continues below advertisement
The jury will now immediately enter the sentencing phase and he will receive somewhere between five to 40 years, and could be out before his 30th birthday, which has been described as a "big win" for the defense and the defendant.
George's family and supporters filled the courtroom and listened in silence when the verdict was read, reported HLN.
During his opening statements earlier this month, defense attorney Fran Lawrence asked the jury to consider a lesser charge of involuntary manslaughter, claiming George had "no intent" to kill Love.