Who is Lolo Jones? Seven Things You Didn't Know About The Virgin Olympian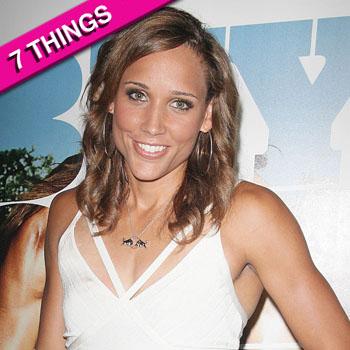 Article continues below advertisement
Jones says she has tried just about every dating website out there, to no avail, and admits that finding a nice guy, while refusing to have sex before marriage is a tough order in today's society.
Since her revelation, the beautiful brunette has become an Internet sensation, and RadarOnline.com is excited to reveal seven things that you didn't know about the Olympic hopeful.
7. Tough Start: Born on August 5, 1982 in Des Moines, Iowa, of French, Native American, African American and Norwegian descent, Jones had a troubled childhood which involved bouncing between eight different schools in eight years while her single mom, also named Lori, struggled to hold down two jobs and raise six children. To survive, the family relied on food stamps and shoplifting with Lolo becoming a professional "frozen dinner thief."
6. Down & Out In Des Moines: With her father either in the Air Force or jail, the family was forced to move into the basement of the Salvation Army church and Lolo was so embarrassed of their poverty that she would get up at the crack of dawn to creep out so no one would see her. When her mom announced they were relocating yet again to Forest City, Iowa, the aspiring sports star told her she couldn't live anywhere without a track and instead bounced around staying with four different families so that she could pursue her dream.
Article continues below advertisement
5. Star Student: While staying with her mentors, Lolo excelled at track and field despite her disadvantages she was named the Gatorade Midwest Athlete of the Year and even went on to set a record at the Iowa state track meet with a mark of 13.40 seconds for the 100-meter hurdles.
4. Inspired by her idol, hurdler Kim Carson with whose mom she lived with for some time, Lolo decided to expand her geographical horizons and attend Louisiana State University in Baton Rouge, where she excelled in track and field. After a star-studded college career that included NCAA champion wins in hurdles, 4x100-meter relay and 60-meter dash, she graduated as an 11-time All-American and a 6-time SEC champion.
3. Tragedy In China: In 2008, Jones set her sights on Olympic gold and started the year off with a bang by running the second-fastest time ever by an American in the 60-meter hurdles and winning her second straight national championship with a time of 7.88 seconds. At the 2008 Beijing Olympics that summer, Lolo was favored to win the 100 meter hurdles, but in the final she was pulling away from the pack when she clipped the 9th hurdle and finished a disappointing seventh place. Devastated that she had blown her chance at a medal, Jones was spotted slumped in a corridor crying to herself in a hallway, mouthing,"why, why, why?"
Article continues below advertisement
"I remember when I crossed that line I felt like somebody had just stabbed me in the stomach. I didn't even have the energy to just get up. I couldn't even stand," she has revealed since then.
2. Struggles and Successes: After being hampered by injuries including a torn hamstring, she missed a large chunk of the 2009 season, then illness zapped her chances of glory in 2011. Now though she is back better than ever and ready to take on the world in London this summer, but she revealed that "staying a virgin is harder than training for the Olympics. This journey has been hard, it's the hardest thing I've ever done in my life," the exotic beauty confessed.
1. Naked and Natural: She may be waiting for that special guy and saving herself for her wedding night, but Lolo's future husband won't be the first person to see her nude by any means! The 5'9" stunner stripped off for ESPN's famous Body Issue in 2009, in which she straddled an antique stool showing off her lithe, athletic body. Although it went against her Christian morals and the shoot made her "uncomfortable," the hurdler was happy with the results because it "was very cool where you could see how hard I worked for those muscles," she told USAToday.com.
Article continues below advertisement
Adrienne Rich: Seven Things You Didn't Know About The Outspoken Late Poet