Remembering Dick Clark: Seven Things You Didn't Know About The Veteran TV Host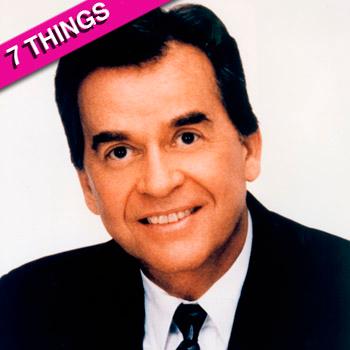 He was one of the most celebrated TV personalities of all time, now RadarOnline.com is taking a look back at Dick Clark's memorable life to reveal seven things which might surprise you about the American star who passed away Wednesday at the age of 82.
7. From Mailroom to Newsroom: While he went on to achieve great things, Clark's career started in the mailroom of WRUN, a New York radio station owned by his uncle and managed by his father. He worked his way up the ranks from weatherman to announcer.
Article continues below advertisement
6. His Nickname Became His Stage Name: He wasn't always known as simply, Dick Clark, he was actually born Richard Wagstaff Clark. Like many celebrities he shortened his name to make it more catchy. First he changed it to Dick Clay but soon picked up the name he became famous for.
5. All Shook Up By Elvis: When Bob Horn was dismissed from Bob Horn's Bandstand for a drunken driving arrest, Clark - who was already a regular substitute - assumed the full-time job as presenter. The show was bought by ABC and renamed American Bandstand. Clark's first interview on the new show was none other than Elvis Presley.
4. He Was Down With The Fresh Prince: In between hosting television and radio shows and running Dick Clark Productions, Clark made time for some TV cameos. One of which might surprise you. Clark appeared not once, but twice on The Fresh Prince Of Bel-Air. In one episode he played himself at a Philadelphia diner and in the other he helped Will Smith's character host bloopers from past episodes of the comedy.
Article continues below advertisement
3. Three Decades Of Success: He hosted his seminal show American Bandstand for three decades. He was only 26 years old when he started.
2. Third Time Lucky: Not only was Clark married to his career, he was married three times to women too. The TV host first married Barbara Mallery in 1952 and had one son. They divorced in 1961. Just one year later he married Loretta Martin and had two children with her. Their marriage lasted nine years. His third marriage in 1977 to Kari Wigton was to be his last. He stayed married to her until his death on April 18 2012.
1. Re-Learning To Walk And Talk: After suffering a debilitating stroke in December 2004 at the age of 75 Clark had to learn to walk and talk again. One year later he retuned to TV to countdown the new year - something he was famous for - on Dick Clark's New Year's Rockin' Eve. "Last year I had a stroke," he said on air. "It left me in bad shape. I had to teach myself how to walk and talk again. It's been a long, hard fight. My speech is not perfect but I'm getting there."