Seven Things You Didn't Know About Masters Winner Bubba Watson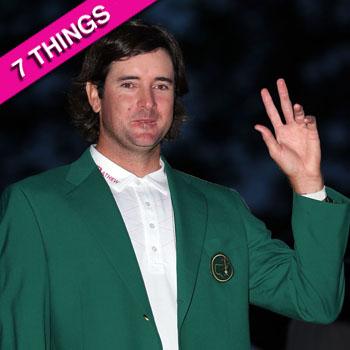 After edging South Africa's Louis Oosthuizen at the Masters this weekend, PGA golfer Bubba Watson inked his name in the record books, forever the owner of the iconic green sport coat awarded to the victor of the sport's most prestigious competition. (We hope it's got some extra length to fill out his considerable 6-foot-3 frame.)
As we love a good underdog story here, we can't think of a better day to fill you in on seven things you didn't know about Bubba Watson, the man of the hour.
Article continues below advertisement
7. His dad wanted -- and got -- a sports champion: Bubba's late father Gerry, who died of throat cancer in 2010, hoped his son would carve out a sports legacy as a major league baseball player. We can't help but think he's smiling down as his son's name is now immortalized with a win in golf's world series, so to say. "He would be excited," Bubba said of his father, after he won. "Just like my mom was excited. We didn't have any words. We just cried in each other's arms."
6. He's a natural: Watson's golf skill set consists of hitting the ball really, really hard-- as in, more than 350 yards, a rarity even on the elite golf circuit he plays. Unlike many -- probably all -- of his pro golfer peers, Bubba's not one for lessons (only having taken one, ever, from his dad when he was 6-years-old) or reviewing his swings on tape. "I just play golf," the power hitter told the AP. "I attack. I always attack ... I want to hit the incredible shot. Who doesn't?"
Article continues below advertisement
5. He's a new daddy: Bubba and his wife Angie last month adopted a newborn son named Caleb. Following his win at the Masters, Bubba joked that "hopefully," the once-in-a-lifetime victory would give him a brief respite from the hazards of changing diapers. "Maybe not, though," he cracked.
4. He pays much better than Blackjack: The 152nd-ranked player out of 185 on the tour, Bubba was a 45-to-1 underdog to claim the Masters, meaning a mere $5 wager on him netted his believers a cool $225 in winnings. Clearly, someone in Vegas is very, very happy.
3. He's got a sporty spouse: Bubba's wife Angie, like him, is an accomplished athlete. The 6-foot-4 beauty played college basketball at the University of Georgia, participated in the 2000 Olympics representing her native Canada, and was drafted by the WNBA's Charlotte Sting, until injury derailed her pro hopes.
2. Call him Justin Putt-in-the-lake: Bubba's done some boy band work as a part of the PGA's tongue-in-cheek boy band, the Golf Boys, along with fellow PGA men Rickie Fowler, Ben Crane and Hunter Mahan. Their Youtube video for the song Oh Oh Oh has more than 3.5 million views, a number we suspect will skyrocket with Bubba's unlikely rise to prominence.
Article continues below advertisement
1. Tantamount To Tim Tebow? Like the headline-grabbing quarterback, Bubba is a devout Christian who's not shy to let people know of his faith and religious leanings. He drives the point home, pun intended, on his Twitter page, where he describes himself as "Christian. Husband. Daddy. Pro Golfer. Owner of General Lee 1."