Tiger Woods Talked With Caddie's Wife (Who's Elin's Friend) About His Serial Cheating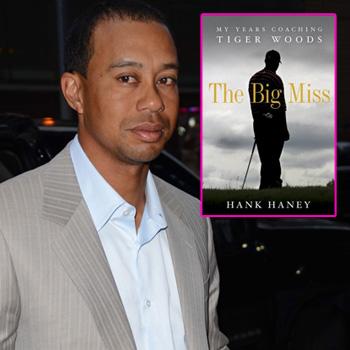 Before Tiger Woods parted ways with his longtime caddie Steve Williams, he made a last-ditch effort to salvage the all-star alliance with an apologetic call to the caddie's wife Kirsty, according to a new tell-all book -- The Big Miss: My Years Coaching Tiger Woods -- written by the golfer's one-time swing coach Hank Haney.
In the book, which was released Tuesday, Haney wrote that he and Tiger's agent Mark Steinberg told the golfer he should reach out to Williams, amid fears their relationship -- in which Tiger won 13 of his 14 Major championships over a 12-year span -- "was going to be damaged, perhaps irreparably."
Article continues below advertisement
Haney wrote, "As much as he didn't want to, Tiger first called Steve's wife, Kirsty, in New Zealand. Kirsty was a good friend of Elin's, so Tiger knew the conversation was going to be uncomfortable."
Tiger Woods Wins First Tournament In 30 Months
Haney wrote that "Tiger said he told her that Steve was blameless. He also tried to get her to understand that his actions hadn't been aimed at Elin, but instead were a compulsion that had gotten out of control."
MORE ON:
hollywood happenings
Sexy Photos Of All Tiger's Women
Despite the gesture, Haney wrote that fences weren't mended quite as well as anyone had hoped.
"I asked Tiger how the conversation went, and he shook his head. 'I don't know,' he said. 'She was still mad, and she didn't really understand,'" Haney wrote.
The duo went their separate ways in the summer of 2011, a development Williams claimed "came as a shock" to him.
For more on this controversial new book, keep it right here on RadarOnline.com.