Tiger Woods Almost Gave Up Golf For The Military, Says Former Coach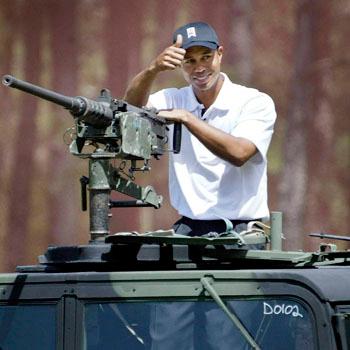 Article continues below advertisement
"The military became central to his life, and in 2007 Tiger probably went on half a dozen SEALs trips… I was beginning to realize that his sentiment ran deep, and that as incredible as it seemed, Tiger was seriously considering actually becoming a Navy SEAL," Hank says in the book.
"I didn't know how he'd go about it, but when he talked about it, it was clear that he had a plan. After finding out that the Navy SEAL age limit is 28, I asked Tiger about his being too old to join. 'It's not a problem,' he said. 'They're making a special age exception for me.'"
Hank says that besides a couple of highly publicized visits to the Navy, the time Tiger frequently spent at naval and marine posts went unreported and was a closely guarded secret by his inner circle.
"Self-defense stuff was a favorite topic. He'd gotten more into it as fatherhood approached, telling me that he really wanted to be able to protect his family and his home if anything ever happened. Once, in his living room in Isleworth, he had me stand up so he could demonstrate some moves," Hank recalls.
Article continues below advertisement
"He got me in one position with his arm around my neck where I couldn't really move. 'From here,' he said, 'I could kill you in about two seconds.' I kind of laughed and said, 'Please don't.' But hearing those words from Tiger was creepy."
And when Tiger tore the ACL in his knee that required surgery in 2008, it was attributed to golf — but Hank says he believes the golf great actually injured his knee in a Kill House training exercise.
"There is a strong likelihood that a Kill House is where Tiger did serious damage to his career. In early 2011, about a year after I stopped coaching Tiger, I was in Minneapolis doing an outing when a woman approached me and said her husband was a Navy SEAL stationed in California when Tiger would come in," Hank says.
"She said that one day in 2007 her husband called her and told her, 'Tiger was in here today, doing an exercise at the Kill House. He got in the wrong place and got kicked pretty hard in the leg, and I think he hurt his knee pretty bad.'
Article continues below advertisement