Tiger Woods Turns His Back On Wheelchair-Stricken Half-Brother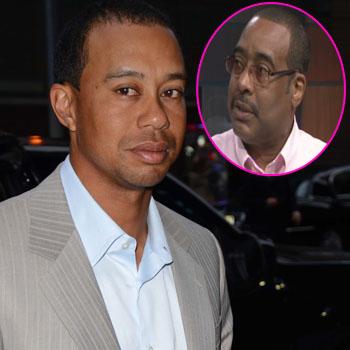 By Amber Goodhand - RadarOnline.com News Editor
Tiger Woods' half-brother hasn't seen the golf pro since his father's funeral in 2006 and claims repeated attempts to reach him have gone unanswered.
Tiger's eldest half-brother, Earl Woods Jr. spoke with ESPN and said that their other half-brother, Kevin Woods, 52, was diagnosed with multiple sclerosis in 2009, is wheelchair-bound, and is financially struggling.
Article continues below advertisement
"I leave messages. I leave updates on Kevin, but for whatever reason I don't get a response. Kevin loves Tiger. A call from Tiger would really pump Kevin up. When he doesn't call, it just makes him feel worse," Earl Jr. told ESPN reporter Rick Reilly.
"We haven't asked Tiger for a dime. Not even tickets to a tournament. But Kevin's losing his home. He needs a caregiver and he can't have a caregiver and keep his home at the same time."
The only word from Tiger was a call back from his rep saying he was busy preparing for the Masters and would not be calling them back.
Since Tiger's rise to fame — both on and off the golf course — the family said there was a steady decline in how much they would hear from the superstar.
"I'd like to slap Tiger, wake him up. I'd like to say, 'Don't come knocking on the door when you need a bone-marrow transplant.' To see this is the response we get?" Earl Jr. said.
Article continues below advertisement
"Maybe when you see the world like he does, you don't see what other people are going through. But, seriously? You've got problems with your knee? That's nothing compared to what Kevin is going through. Nothing."
Tiger famously saw his marriage to Elin Nordegren crumble after a 2009 Thanksgiving meltdown that exposed his infidelities in upwards of 15 women.
"My dad would have been very disappointed in him. He would probably have wanted to know how he would fix it," Earl Jr. told Fox 10 in Phoenix in a 2010 interview.