Hope Solo Reveals Raunchy Secrets Of The Olympic Village, 'There's A Lot Of Sex Going On!'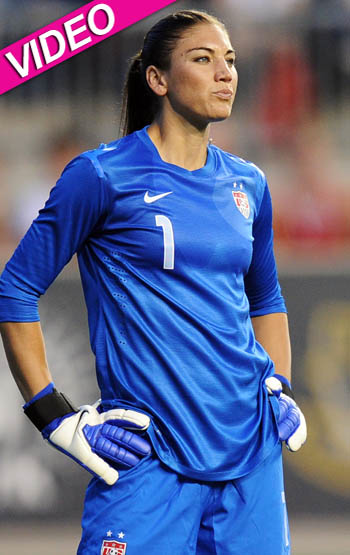 Article continues below advertisement
The goalkeeper who held off Brazil from scoring and helped her team defeat Brazil 1-0 to take the gold in the last games revealed that the post-match celebration was so raucous that they were still drunk during an interview the next morning.
"When we were done partying, we got out of our nice dresses, got back into our stadium coats and, at 7 a.m. with no sleep, went on the Today show drunk," 30-year-old Hope confessed.
Still inebriated from her wild night, the normally unshakable soccer star even flubbed her answers on the live show, answering a question: "There is no pressure going into the game, other than it being a World Cup - I mean an … an Olympic Final!"
It wasn't just sports stars who enjoyed a night on the town in the Chinese city, as the soccer team was joined on their all-night bender by Old School star Vince Vaughn. "At some point we decided to take the party back to the village, so we started talking to the security guards, showed off our gold medals, got their attention and snuck our group through without credentials - which is absolutely unheard of," the goal keeper dished.
Article continues below advertisement
And while she doesn't name names, the 5'9" beauty even snuck another mystery celebrity back to her room at the Olympic Village for a raunchy rendezvous, which she calls her "Olympic secret."
Packed with the world's hottest sports stars and athletes at the top of their game – often dressed in the skimpiest of clothing or none at all – packed into a cluster of condos, midrises and houses as well as cafes, barbershops, arcades, discos and TV lounges, it is not surprising that the Olympic village transforms into a hotbed of debauchery every four years.
"There's a lot of sex going on!" Hope revealed. "Unlike at a bar, it's not awkward to strike up a conversation because you have something in common."
However, "If you don't have discipline, the village can be a huge distraction," she warned.
Solo isn't the only athlete spilling the beans to ESPN The Magazine on the after-hours antics that go on during the games. "The village becomes a pretty wild scene, the biggest melting pot you've been in," said Eric Shanteau, an American who swam in Beijing and will be heading to London.
Article continues below advertisement
Meanwhile water polo captain Tony Azevedo compared it to the first week of college! "You're nervous, super excited. Everyone's meeting people and trying to hook up with someone," revealed the veteran of the Beijing, Athens and Sydney games.
After witnessing a revolving door of women coming in and out of the dorm he shared in Sydney, shot-putter John Godina thinks it is more like Sin City! "It's like Vegas. You learn not to ask a lot of questions," he said.
Hope went on to explain that the personality traits that make them medal-winners in their specialty are the same that motivate Olympians to be stars after-hours.
"Athletes are extremists," Solo told ESPN. "When they're training, it's laser focus. When they go out for a drink, it's 20 drinks.
"With a once-in-a-lifetime experience, you want to build memories, whether it's sexual, partying or on the field. I've seen people having sex right out in the open. On the grass, between buildings, people are getting down and dirty," she revealed.
Article continues below advertisement
The 2012 Olympics will be held in London from July 27 to August 12, so let the games begin!
The full story can be read in the ESPN The Magazine 'Body Issue,' on newsstands Friday.