Team USA's Olympic Opening Ceremony Uniforms: Made In China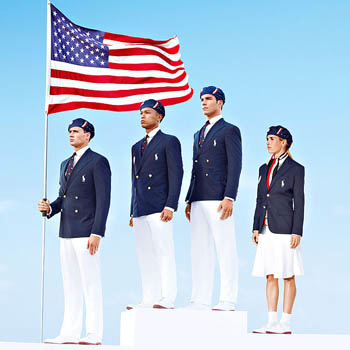 By Amber Goodhand - RadarOnline.com News Editor
Team USA won't just be representing America at the Olympics in London this year, because it turns out their opening ceremony uniforms were made in China!
The red, white and blue threads are designed by famed fashion designer Ralph Lauren and feature blazers, pants, skirts and berets (which are native to yet another country, France).
The uniform itself and the fact that it was produced in China has Congress up in arms, and they're a hard hit to Americans who are desperate for employment during this tough economic time.
Article continues below advertisement
"I am so upset. I think the Olympic committee should be ashamed of themselves. I think they should be embarrassed. I think they should take all the uniforms, put them in a big pile and burn them and start all over again," Senate Majority Leader Harry Reid, D-Nev., told reporters at a Capitol Hill news conference on taxes on Thursday.
"If they have to wear nothing but a singlet that says USA on it, painted by hand, then that's what they should wear."
The sentiment rang throughout Congress, with House Minority leader Nancy Pelosi, D-CA., saying the athletes "should be wearing uniforms that are made in America," and House Speaker John Boehner, R-Ohio, said of the Olympic Committee, "You'd think they'd know better."
RadarOnline.com has learned many citizens find the uniforms "snobby" and feel they portray an elitist attitude — and oppose having Ralph Lauren's logo slapped across them.
Article continues below advertisement
"Unlike most Olympic teams around the world, the U.S. Olympic Team is privately funded and we're grateful for the support of our sponsors," Olympic Committee spokesman Patrick Sandusky said in a statement.
"We're proud of our partnership with Ralph Lauren, an iconic American company, and excited to watch America's finest athletes compete at the upcoming Games in London."
Sherrod Brown, D-Ohio, and Kristen Gillibrand, D-N.Y., sent letters to the chairman of the U.S. Olympic Committee complaining that they were not produced in America.