Exclusive
Matt Lauer's Wife Going To London Olympics To Keep Tabs On Him!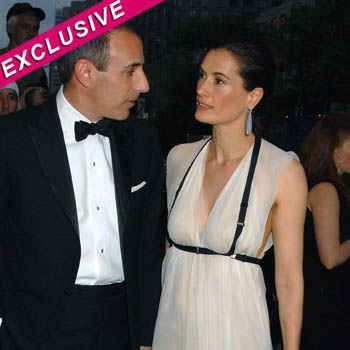 By Jen Heger - RadarOnline.com Assistant Managing Editor
Matt Lauer's wife, Annette Roque will be traveling across the pond for the London Olympics with their three children, to keep tabs on her husband and his roving eye as he spends time in the city reporting on the upcoming games, RadarOnline.com is exclusively reporting.
"Annette and the kids will all be going to the Olympics so she can keep very close tabs on Matt," a source close to the situation tells RadarOnline.com. "Matt and his family will be staying at a different hotel than the rest of the cast and crew. Annette generally doesn't like to accompany Matt when he travels for work, but it's the Olympics and the kids are very excited. It's hard to travel with three kids and Annette enjoys spending the summer at their Hamptons mansion where they live full-time now but Annette has made it very clear the whole family will be heading to London. Annette has made no bones about the fact she will be keeping close tabs on Matt."
Article continues below advertisement
As previously reported ratings for TODAY have plummeted since Ann Curry took over from Meredith Vieira last year and as a result the veteran journalist has been handed a pink slip and Roque isn't happy about the situation. She fears the replacement will be none other than Natalie Morales, the woman Lauer was not only accused of having an affair with, but also fathering one of her children.
Roque, reportedly told the NBC host that if Morales gets the job, she's divorcing him. "When she heard about Ann getting the boot, the first thing she told Matt was that she didn't want him cozying up any closer to Natalie," a source close to Lauer's wife told The National Enquirer. "In fact, Annette drew a line in the sand and said if he pushed show bosses to make Natalie his new co-host, she'd divorce him. Annette knows Matt is the key to the TODAY franchise and his bosses will put whoever he wants in the co-host chair."