Matt Lauer's Wife Threatens Divorce If Natalie Morales Gets Today Co-Host Gig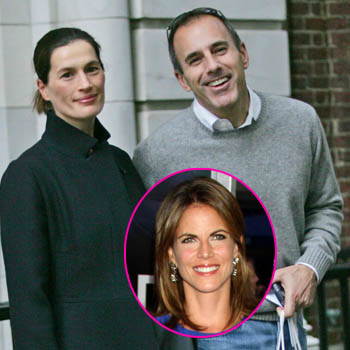 There's drama brewing on Today in the wake of Ann Curry's sudden departure from her co-host seat and it's almost as good as an episode of the Jersey Shore!
Ratings for the morning program have plummeted since Curry took over from Meredith Vieira last year, and as a result, the veteran journalist is being handed a pink slip and Matt Lauer's wife Annette Roque isn't happy about the situation.
Article continues below advertisement
She fears the replacement will be none other than Natalie Morales, the woman Lauer was not only accused of having an affair with, but also fathering one of her children.
Morales has been a regular fixture on the show for a few years now and was upset she didn't get the co-host gig after Vieira left. It's now rumored she's threatening to quit the show if she doesn't get the job even though Savannah Guthrie and Hoda Kotb are the front-runners.
Meanwhile, that's not the only threat going around. Roque, reportedly told the NBC host that if Morales gets the job, she's divorcing him.
"When she heard about Ann getting the boot, the first thing she told Matt was that she didn't want him cozying up any closer to Natalie," a source close to Lauer's wife told The National Enquirer. "In fact, Annette drew a line in the sand and said if he pushed show bosses to make Natalie his new co-host, she'd divorce him. Annette knows Matt is the key to the Today franchise and his bosses will put whoever he wants in the co-host chair."
Article continues below advertisement
A NBC Universal representative had no comment on Curry or her replacement, but said the talk of Morales, 40, being upset was 'totally untrue'.
But Roque isn't taking any chances and is doing everything she can to ensure Morales doesn't get the job.
Lauer, who is said to have signed a $25 million deal earlier this year to stay with Today, was accused of having an affair with his coworker when they were covering the Winter Olympics in Italy in 2006.