Good Morning Katie! Couric Anchors At Old Rival GMA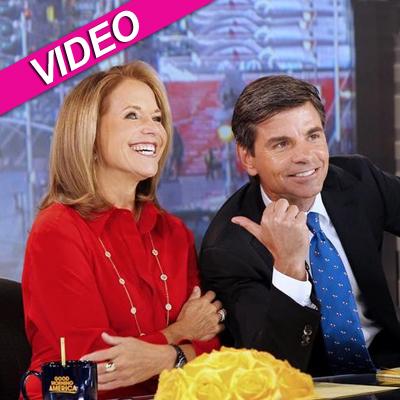 Boy that Katie Couric gets around.
The former NBC Today show host turned CBS News anchor turned ABC News contributor kicked off a week of co-anchoring Good Morning America on Monday, filling in for the vacationing Robin Roberts.
"We're glad to have Katie Couric here," said George Stephanopoulos at the start of the broadcast, which continually has lagged behind Today in ratings, although it's gaining ground.
Article continues below advertisement
"It's a little strange, and I'm a bit nervous," said Couric. "I first woke up at 1:15, like 'I'm ready to go!..."
"Getting up this early was a lot harder than I remembered," she added, before the show launched into a light-hearted pre-taped video montage showing a crazed Couric getting ready at home.
"I kind of feel like I won the lottery sitting next to you," Couric said to Stephanopoulos before turning to GMA's top story, the Mega Millions lottery winners.
Watch the video on RadarOnline.com
Not to be outdone, on Today, Matt Lauer and Ann Curry promised a mystery guest later on in the show. "There's been so much speculation about who's our legend this morning," said Curry, to which Lauer added, "We'll reveal that a little later on."
The "legend" later turned out to be former Today co-host Meredith Vieira, who will be rejoin the Today crew at its coverage of the 2012 Summer Olympics.
Article continues below advertisement
Lauer also made the surprising announcement that Sarah Palin would co-host Today on Tuesday --which would pit Couric against the woman she famously asked, "What papers do you read?" during the 2008 Presidential campaign.
Today also promised Ryan Seacrest will appear on the show Tuesday to make a "big NBC announcement."
Meanwhile, on CBS This Morning, they also pulled out the big guns -- bringing Oprah Winfrey live in studio to talk about her struggling network.