Oprah's Surprising Admission About OWN: 'Had I Known That It Was This Difficult, I Might Have Done Something Else'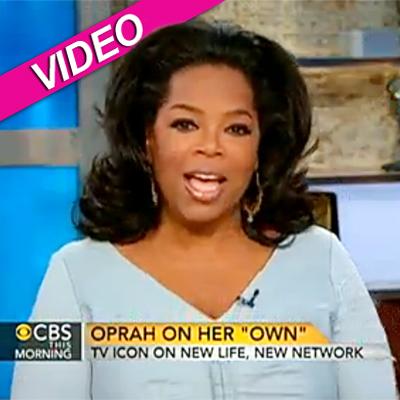 Oprah Winfrey is owning up to the mistakes she's made with her troubled network.
In a rare interview, Winfrey spoke with The Early Show (and her BFF Gayle King) on CBS Monday about her problems launching her TV network OWN, weeks after poor results caused internal upheaval resulting in 30 lay-offs, a corporate restructuring at the network's offices in New York and Los Angeles, and the cancellation of Rosie O'Donnell's high-profile talk show.
Article continues below advertisement
"The idea of creating a network was something that I wanted to do. Had I known that it was this difficult, I might have done something else," Winfrey said. "I didn't think it was going to be easy, but if I knew then what I know now, I might have made different choices.
"If I were writing a book about it, I could call the book '101 Mistakes.'"
Winfrey compared launching the network when she did to "having the wedding when you know you're not ready."
Winfrey said if she could do it over, "I would have probably waited until I actually finished 'The Oprah Show.' Because from the day that (Discovery Communications boss) David Zaslav came in to see me, I said to him, 'The thing that I'm worried about who's going to lead this train because I can't do it.'"
Watch the video on RadarOnline.com
Winfrey added that Saturday Night Live creator Lorne Michaels warned her of the storm on the horizon, telling her, "No one wants to see you come off The Oprah Winfrey Show of all those 25 years of success and step right into the network business: You've got to pay your dues.'"
Article continues below advertisement
Last month, the TV legend had to lay off 30 people -- or, 20 percent of the workers she hired, which she called "the most painful" decision she had to make. She also revealed she did not personally fire the employees, but that Human Resources did the job.
Winfrey said moving forward, she's strategizing to build the network show-by-show, night-by-night, with quality programming.
"Actually, I feel better about our network own today than I ever have," she said.